With several blackboards full of specialty coffee drinks, a casual snack menu and plenty of live entertainment, you can flop down on one of Coffee.COMedy's comfy couches and enjoy a comedy act or band without the club noise or crowded bars.
Lifelong friends Megan O'Neill and Rachael Toft recently became owners of Coffee.COMedy and have kept the Sea Isle tradition going. Live entertainment can be found every Thursday, Friday and Saturday during the summer, while Sundays spotlight comedy acts.
If you're feeling a bit hungry, the coffee shop offers a wide variety of sandwiches and wraps. Choose from breakfast items like a bagel with cinnamon honey butter ($3.50), lunch dishes such as the beach ball (a turkey, bacon, Swiss cheese, lettuce and tomato sandwich, $7.50) or even munchies like a hummus bowl ($5.95) or a veggie and ranch dip platter ($4.50). Biscotti, cookies and assorted baked sweets round out the menu. Bring your computer along as the shop offers wireless internet access.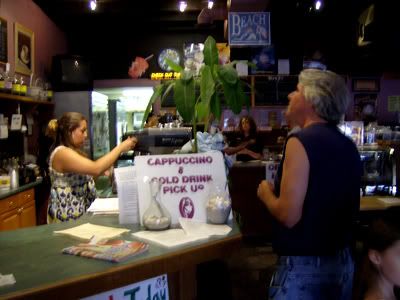 Comedy:
August 3: Jimmy Carroll featuring Dena Blizzard
August 10: Joe Bublewicz from Comedy Central featuring Eric Lyden
August 17: Chris Rich featuring Chris Johnston
August 24: Jimmy Roundboy Graham hosted by Steve Trevelise
August 31: Big Daddy Graham


Copyright DigPH - Digphilly