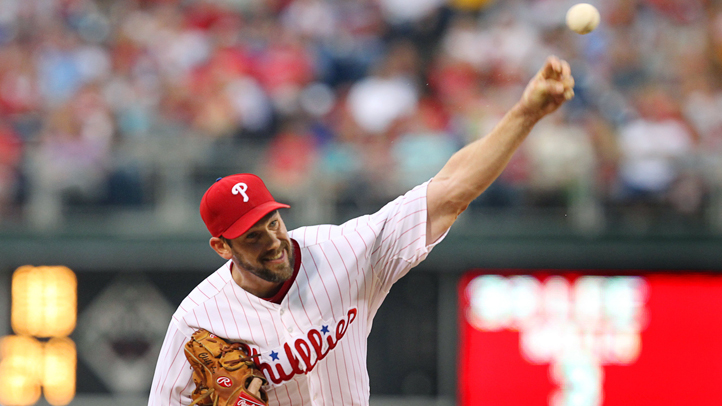 Despite the obvious flaws with the offense when the season started, the Phillies were still pegged to be one of the better teams in the National League because of the strength of their starting pitching. With a rotation that consisted of Roy Halladay, Cliff Lee, Cole Hamels, and Vance Worley, they figured to have more than enough firepower to overcome what was to be a low-scoring team.

In hindsight, the rotation ultimately proved to be a bit of a weakness to the team, as injuries took down Halladay, Lee and Worley, as the trio was unable to replicate their success from last season. While it's easy to chalk Doc's and Worley's struggles up to their injuries, there is a bit of a question mark when it comes to explaining Cliff Lee's odd season.

Through 22 games this season, the lefty has a 2-7 record, with a 3.78 ERA and 151 strikeouts in 154 innings pitched. He remains winless at home, and is likely going to end the season with a sub-.500 record.

And you know, let's stop here for a second and address this win-loss record. While it's clear that Cliff Lee isn't as dominant this year as in the past, his record certainly doesn't accurately reflect how well he has actually pitched. I've talked about this at length, but W-L records are poor indicators of performance because they rely greatly upon the offense, the bullpen, and the opposing pitcher. Sometimes, no matter how well you pitch (like when Cliff threw ten shutout innings in San Francisco), you will never win if the offense doesn't support you or if the bullpen blows a lead. And if not for blown leads by the bullpens or poor offensive support, Lee could easily have 10 or 11 wins.

Now that that's out of the way, let's take a look at what we know about Cliff this season...

He isn't walking any more batters, and his 1.5 BB/9 is the lowest in the Majors and one of the best of his career.

He is striking out slightly less batters this year, but his 8.8 punchouts per nine is the second highest of his career (behind 2011's 9.2 K/9), and it's certainly a respectable number and near the top of the leader board.

The two big things that Lee has struggled with this year has been home runs and plain old base hits. He's given up 22 long balls this year, and just over one per nine innings, which is the highest it's been since he was a tomato can with a ticket to the minor leagues in 2007. He has already given up more homers than he has all of last season, and he's just four off of the pace for the MLB leader, Joe Blanton (22).

He's also given up more hits this season - per nine and otherwise. Of course, that's deceptive, because he's not necessarily pitching any worse because of it, and aside from the home runs, isn't really getting hit any harder. He has allowed fewer line drives than last year - which would indicate that batters aren't squaring up as many balls against him, and slightly fewer ground balls. The only big change in the batted ball distribution is that he is allowing more fly balls, which have resulted in a greater number of home runs, which would seem to indicate that he is missing his spots at inopportune times.

All in all, Lee is pitching well this season, but it doesn't quite show it in the stats such as ERA or W-L record. That's not to say that he is excused for some of his stinkers on the hill, but if you've watched him at all this season, you'll know that he can carve up an opposing lineup, only to be undone by some weak ground balls that find their ways for base hits, as was the case on Tuesday night against the Reds.

My prognosis? Cliff Lee is going to be a-okay. He's going to bounce back in 2013 just fine, so don't be too troubled by this season, which is nothing more than an abberation.