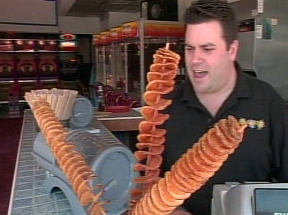 Anyone walking along the Wildwood Boardwalk this summer might notice something strange on a stick in the hands of hungry beach goers.
The ChipStix is hoping to make a splash down the Jersey Shore. North Wildwood is the only place in the area that you will find the deep-fried delight.
But what is a ChipStix?
It's basically a humongous, stretched-out french fry -- a cross between a potato chip and fry with a stick in the middle.
Do you believe that food always tastes better on a stick or just amused by the bizarre treat? Well hit up Ryan McDowell's place on the North Wildwood Boardwalk to try the tasty treat.