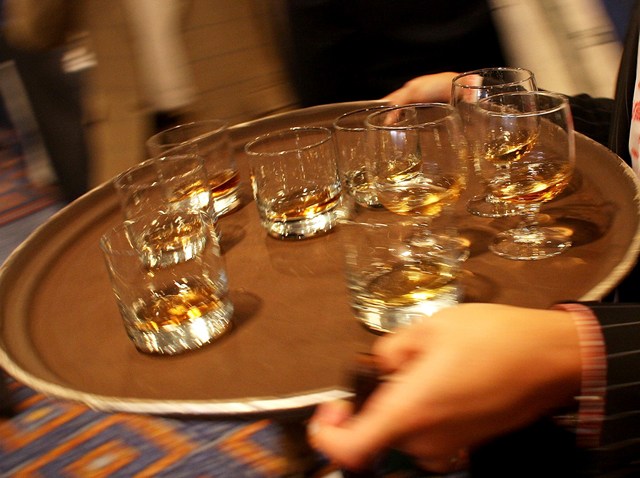 Thanksgiving Eve is approaching and you know what that means -- time to party! And with bars all over the city offering amazing drink specials, you definitely don't want to miss out.

Plus, what's a better cure for a hangover than Thanksgiving dinner?
If you've never been to the Tavern on Broad, Wednesday might be a great night to check it out because they'll be hosting the 2nd Annual Butter Ball. TheBarCoed will be sponsoring this Thanksgiving-themed event, Ocean City Maryland's DJ Dnial will be on the turntables. And on the dance floor, check out dancers dressed as Pocahontas and Pilgrims. Drink specials include $4 Absolut drinks and $4 Coors Lights from 9 p.m. to 2 a.m.
Tickets will be $15, but the first 100 people to purchase them will receive a complimentary one hour open bar. Visit the website to learn more and to purchase your tickets.
Turkey Phever is the theme this Wednesday at Mcfadden's Ballpark. There will be no cover and tons of drink specials at the Citizens Bank Park location.
Special guest bartenders will be making $4 Stoli, Three Olives, and Bacardi cocktails, $3 Domestic Beers and $5 Southern Comfort shots. If you are driving, be sure to park on Darien Street Lot P for free parking.
Drinker's Tavern will be offering super low-priced drink specials at five different locations during their All Access Thanksgiving Eve party. The locations include Drinker's Tavern at 124 Market Street, Drinkers Pub at 1903 Chestnut Street, Noche at 1901 Chestnut Street, Lucy's at 247 Market Street, and Drinker's West at 3900 Chestnut Street.
From 8 p.m. to 10 p.m. you can quench your thirst with $.50 Bud Light Drafts and $.50 well drinks. To get this great deal all you have to do is add your name to the guest list.
Another popular bar that will throwing down the night before turkey day is Finnigan's Wake on 3rd and Spring Garden. Known for their cheap college nights, they'll be sticking to the cheap theme with $4 Southern Comfort drinks and shots.
Party like it's 2010, but dress like it's 1620 and you get free cover. That's right dress like Pocahontas or a Pilgrim and you won't have to pay a cover at Mad River. If you choose to dress up, don't worry, you won't be the only one rocking out in old-fashioned gear the staff will also be dressed up for the occasion.
From 9 p.m. to 11 p.m. at Mad River's 126 Chestnut Street location there will be $1 Coors Light bottles, $2 u-call-its and $3 SoCo and Lime shots. That's not even the best part, there will be a free buffet! Don't miss out on this free food and cheap drink deal.
Every Thursday Silk City located at 435 Spring Garden throws a party called Mo Money No Problems, but this week, they're moving it to Wednesday for Thanksgiving Eve.
Since Thanksgiving only comes once a year, they are spicing up the party with $4 Southern Comfort drinks and shots from 10 p.m. to 12 a.m. Ladies are free from a cover charge, but fellows must pay $5 after 11 p.m. Spend the night dancing to beats played DJ Sammy Slice and DJ Cool Hand Luke.
Looking to start the party early on Wednesday? Well don't wait around for happy hour specials because O'Neal's will be offering $4 Southern Comfort drinks and shots all day.
This family owned and operated Irish pub located at 611 South 3rd Street knows how to get down.
Time to Party! Gobble Gobble!