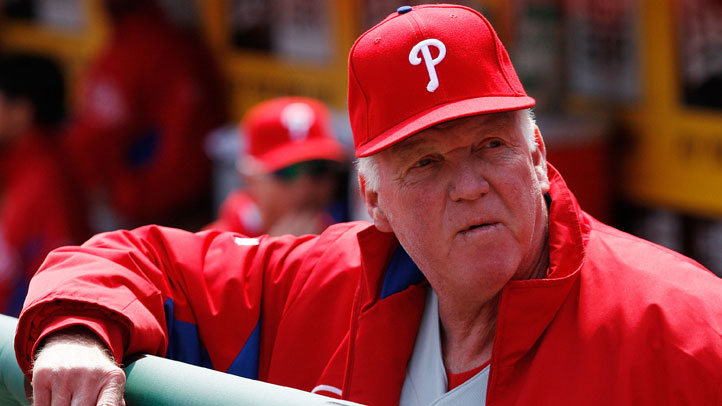 Following the 2013 season, the Phillies are going to have plenty of personnel decisions to make, thanks to a number of expiring contracts at season's end, including manager Charlie Manuel, who is in the final year of a three-year contract extension.

The question, then, is whether or not the Phillies will want to bring Manuel back as the Skipper, especially when they apparently have a replacement lined up and waiting in the wings.
From the AP's Rob Maaddi by way of ESPN.com...
"I still want to manage," Manuel told The Associated Press on Thursday. "I'm not ready for somebody to tell me to go home. I'm not ready to quit managing. I'm not ready to get out of the game."

Manuel is the franchise's all-time leader in wins and only the second manager to lead the Phillies to a world championship. It's widely assumed that Hall of Fame second baseman Ryne Sandberg, the team's new third-base coach, will eventually replace him as the manager.


With Manuel's contract up at the end of the year, one has to wonder if the promotion of Sandberg to the big league club was merely a coincidence, or rather a sign of the times that the Phillies are looking to move in another direction following the 2013 season.

It would make sense for the latter to be the case, as the roster itself is undergoing a change, thanks to a quasi-youth movement taking place that will see the likes of Cole Hamels, Domonic Brown, and Ben Revere becoming the face of the team going forward, while Roy Halladay, Chase Utley and Carlos Ruiz head towards free agency after the season.

And for better or worse, the organization could use a bit of a face lift. Following a period of success between 2007 and 2011 that most franchises will never experience, the Phillies certainly need to change the way they do things. While the Atlanta Braves and Washington Nationals are experiencing success thanks to a tremendous farm system buoyed by a front office who puts an emphasis on scouting, the Phillies find themselves with an empty minor league cupboard and no well from which to draw new talent. That's partially because the Phillies made so many trades for top talent over the last six years – some necessary, some not – and partially because they haven't had a great deal of success in utilizing the draft picks that they have had (I'll let my friend and fellow blogger Michael Baumann weigh in on that).
Ultimately, you are looking at an organization that's going to have to negotiate some rough waters in the coming years.

As far as Charlie Manuel goes, I'd be okay with a new skipper. It's not that I don't like Charlie, because I've liked having him around since 2005, thanks mostly to his folksy and often unintentionally hilarious way of speaking (Pound Swoooosh). That said, I don't think too much of him as a manager. To be fair, I think most managers are wastes of space who only exist to fill out a lineup card, but I can only take so many games of watching Charlie make some bone-headed pitching changes while outright refusing to sit Ryan Howard against left handed pitchers.
Of course, that's not to say that Ryne Sandberg would be any different than Chuck, but sometimes bad change is good simply because of the fact that it's change. The entire 2013 season is still ahead of us, so we probably shouldn't jump the gun, but it's probably only a matter of time before the former Phillie and Hall of Fame second baseman is handed the lineup card by the front office.