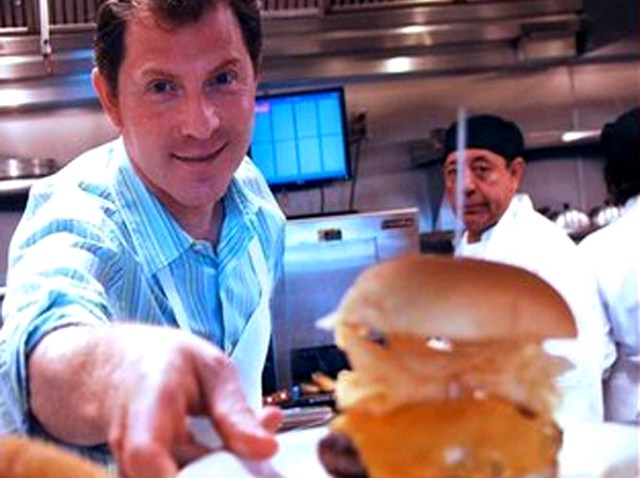 Meat lovers rejoice. Gourmet burgers are making their debut in Cherry Hill today thanks to Bobby Flay.
The chef/restaurateur, cookbook author and TV personality is in town to officially open his 8th "Bobby's Burger Palace" at the Cherry Hill Mall on Route 38, set to satisfy South Jersey lunch-seekers beginning at noon Tuesday. There is already a Burger Palace that opened last year in Philadelphia, and this latest property shows Flay's passion to build great restaurants within a short trip of his New York City home.
Bobby's Burger Palace "presents 10 signature burgers inspired by Chef Bobby Flay's extensive travels throughout America and love of the grill in a convenient casual setting," according to the restaurant's official site.
"I've always been excited about burgers," Flay told the Cherry Hill Courier-Post. "As a chef, when I would go out to eat after work, I was always looking for comfort food."
Burgers include the Philadelphia (provolone cheese, griddled onions and hot peppers), the Miami (pressed with ham, Swiss cheese, pickles, mustard and mayonnaise), the L.A. (avocado relish, watercress, cheddar cheese and tomato), the Dallas (spice crusted, coleslaw, Monterey jack, BBQ sauce and pickles) and more. All can be served with ground turkey, chicken or without a bun. And one of the hidden secrets: any burger can be "crunchified," or topped with crisp potato chips at no additional cost (as depicted here).
"Every burger has a short story to it. I have traveled to different places throughout the United States and brought back the ingredients," Flay told the Courier-Post.
The menu also includes sides like French fries with special sauce, sweet potato fries, beer battered onion rings, milkshakes, Boylan's sodas and more.
Photo: Bullfrog & Baum