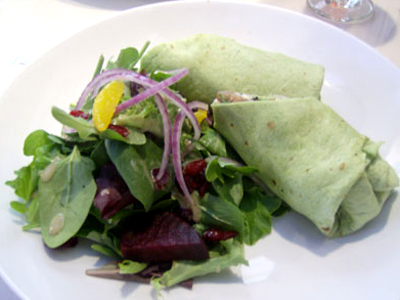 There's no porterhouse steak or lobster on the menu at Blue Sage, but don't worry, you won't feel deprived. This vegetarian grille offers a complex array of flavors with a fusion menu that's sure to please even die-hard carnivores.
The lunch menu is small and simple, with just over a dozen items. But with a variety of dishes, inspired by everything from traditional Mediterranean fare to Middle Eastern and Latin cuisine, you won't be limited.
Take for instance, the el fino, a griddled spinach tortilla filled with grilled pears, pecans, Gorgonzola, grilled onions and a dairy-free onion mayo. It's scrumptious and adequately portioned for under $10. The wrap comes with a spring mix topped with oranges and pear vinaigrette.
The adobo Cubano, one of three Cuban sandwiches on the menu, is grilled nicely and stuffed with roasted tomatoes, peppers, caramelized onions, spinach and cheddar.
The atmosphere at Blue Sage, especially at the peak dining hours, is boisterous and crowded, but in a good way. The decor is crisp and modern; clear white linen tables are sandwiched together so closely, you may find yourself striking up conversations with diners at the table next to you.
This isn't the spot for an intimate dinner. With its small dining room and bad acoustics, you'll find yourself shouting across the table a lot. But if you are looking for a good place to socialize and dine, the commotion shouldn't detract from the dining experience.
The wait staff is friendly and eager to explain the nuances of vegetarian cuisine. My only complaint was an exceedingly long wait for the check, especially surprising since service had been swift up until that point.

Blue Sage Vegetarian Grille
772 Second Street Pike
Southampton, PA
215-942-8888