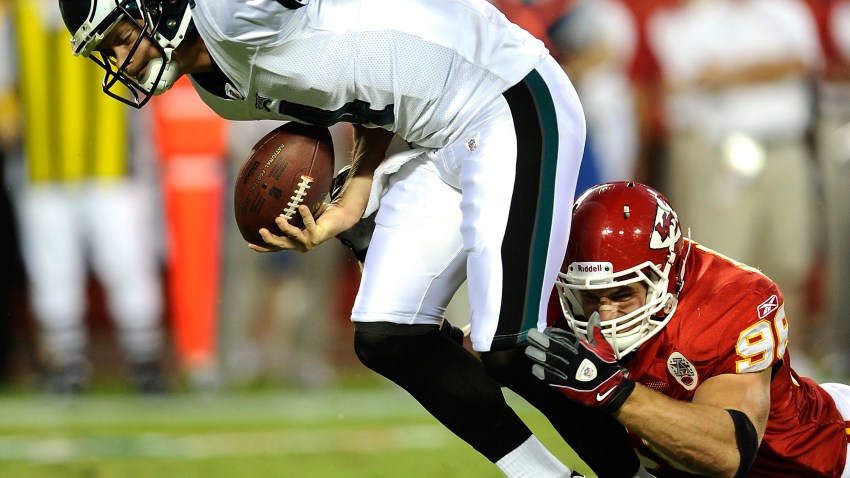 This weekend was busy with Eagles tidbits. But most of it had a peculiar, oddball spin to it. Here's this weekend's news:
*Asante Samuel seems to have learned how to tackle. Doesn't get more bizarre than that.

*DeSean Jackson, in addition to his upper back injury, will have his wisdom teeth taken out Monday. So, he's kind of young right?

*One hurt foot wasn't enough for Todd Herremans. After playing in Friday night's preseason game against the Chiefs, Herremans went and got his non-surgeried foot hurt. Sprained ankle sidelines him yet again.

*"Leonard Weaver Day" was celebrated on Saturday at the fullback's alma mater, Carson Newman College in Tennessee.

*Eagles cast off linebacker Andy Studebaker took down the team's quarterback savior. Twice. That's karma for you.

*Macho Harris, he of the cornerback to safety, back to cornerback routine, has been moved back to safety again. Again! Look forward to him getting rotated back and forth for the whole season while he rides the edge of the roster.

*It only took Shawn Andrews a few short hours before he went after the Eagles. He said the Giants team "just feels like home." Let's hope it's a home he can ruin for himself.

*The city of Philadelphia just received a telegram: Kevin Kolb is not the messiah. (A 39.2 passer rating will do that for you.)

*Apparently the Packers are already preparing for the Eagles. Aaron Rodgers played as Kevin Kolb in the scout team offense. Is it possible that right now Green Bay coaches think more highly of Kolb than the Philly media does?

*Jason Peters still hasn't fixed his false start problem. That's not really bizarre news though. It's not really even unexpected. I mean if you were making $60 million, you wouldn't care about false starts either, would you?