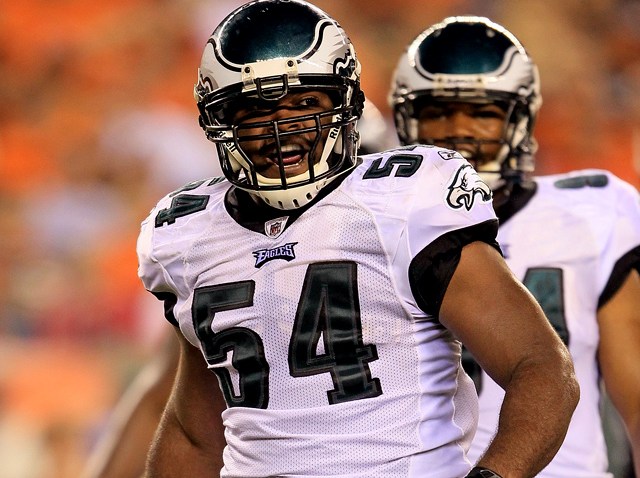 The Eagles are young. We knew this. It was intentional. It is part of the total Iggley overhaul currently taking place.
It is also mildly alarming, as Philly prepares to watch football through their fingers, that there are just three players -- excluding the kicker and punter -- over 30 years old. Only 26 of the 75 men on the roster have more than three years' experience in the NFL. The safeties, for example, average just over 24 years of life.
Oh, sure, Antonio Cromartie was a grandfather by then, but that doesn't mean Kurt Coleman knows everything he needs to. It just means he hasn't been broken and hobbled yet and can still walk without limping.
CSN Philly took a look at exactly how much younger, on average, the Eagles are to the rest of the NFC East. While we all knew the Redskins were laughably old, you can move the meter over to "guffaw": the Washington offense is an ancient 30.7 (more on that at WaPo, and blame McNabb -- he's used to it.)
The Giants and Cowboys, respectively, run an average of 27.4 and 28.2 years of age.
That's years beyond the Eagles, who are as green as their uniforms at a very raw 25.7 average years old. We'd have called them tender and twining, like a very young pea, but Jordan Ranaan went bananas:
Let's for a second compare football teams to bananas. The Eagles are those green ones that can still be eaten and taste OK. Occasionally, one will even surprise you with its juiciness.

The Redskins are the overly mature brown ones, mushy and spoiled on the inside. They can be useful only in the perfect situation, like in cereal or ice cream, where the mushiness is masked.

The Giants and Cowboys appear just right, bright yellow and in their prime. They are perfectly ripe.

They are also perfectly annoying, but that's for another day. The question, them, is how young is too young? Is this season going to be four months' worth of first days of school, in which everything is learned for the first time and Trevard Lindley throws up cafeteria peaches?
Maybe. The 1992 Cowboys, derided for their youth up until they won the Super Bowl, were on average a full year older (26.72) than these Eagles -- and these Eagles, it is safe to say, are not the '92 Cowboys.
That'll save someone from getting stabbed in the neck a few years from now, but it doesn't give the Eagles any other advantage. If anything, when considering the gaping unknown at quarterback and the youth of the skill players and revamping D, it means the best the Eagles can probably aspire to this year is to be the occassional banana in the tailpipe.
And that would be pretty darn fun, all things considered.