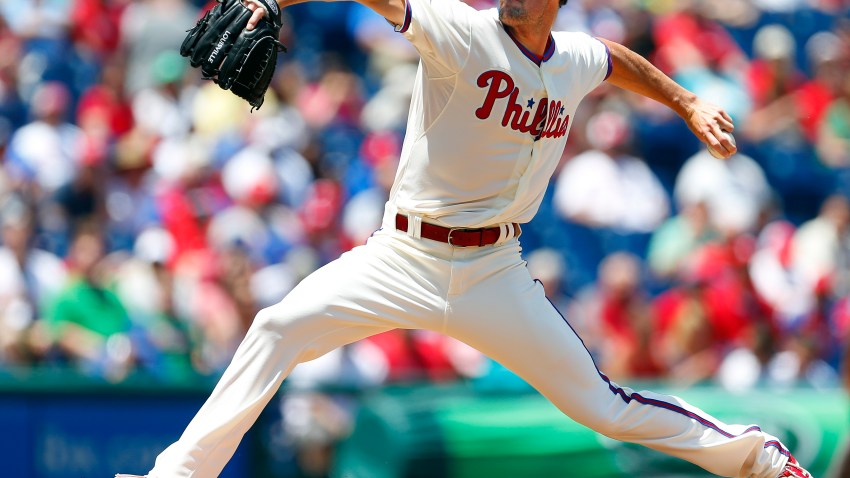 The Philadelphia Phillies find themselves back at .500 for the year after a win on Wednesday over the Miami Marlins, thanks in part to a brilliant start by Cole Hamels (8 IP, 1 ER, 11K), and a seventh inning offensive explosion that included Domonic Brown's MLB-leading 19th home run of the year.

The sweep of the lowly fish was among the more entertaining series of the year for the Phillies, who enjoyed a complete game from Kyle Kendrick on Monday and some late-inning heroics from John Mayberry on Tuesday. All in all, it was a really great series, even if it doesn't mean squat, given that they were playing a team that they most definitely should have pounded.

But, here they are, once again at the .500 mark on the season. It was their first visit to the break-even plateau since they were 6-6 on April 14th. Since that time, they've had four chances to get back to even, and have been 0-4 in those starts prior to Wednesday's victory.

It's been nearly two months since the Phillies sniffed a winning record, and in that time, quite a few things have changed...

The winning pitcher on April 12 was Roy Halladay, who earned his 200th career win against the (who else?) Miami Marlins. Following that start, Doc would go on to have a 9.47 ERA over his next four starts, before hitting the disabled list with a shoulder injury that would require surgery.

The Phillies everyday right-fielder, Delmon Young, was still two wonderful weeks away from contributing with his sub-.700 OPS. Since literally hitting the high-water mark in his first at-bat as a Phillie with a homer in a 14-2 loss to the Cleveland Indians on April 30, Ruben Amaro's buy-low acquisition has hit .220 with five home runs in 30 games. He has a good arm, though. So that's something.

The Office ended it's nine-year run on NBC, in a fashion not-too-dissimilar than the way Hall of Fame Phillie Mike Schmidt ended his: circling the drain after many brilliant years in the game. I've since started to re-watch the series on NetFlix, and it's honestly one of the most brilliant television shows ever to air. But, like a lot of athletes, it hung around a bit too long and made us all forget just how awesome it was in its prime.

N.L. East rival Atlanta Braves, who looked like they couldn't lose prior to April 14, looked like they couldn't win for a few weeks after. Since starting the season 11-1, the Braves proceeded to go 11-17 in their next 28 games. They followed that up with eight straight wins, and have since built a seven game lead in the division.

The Red Wedding happened. You know what I'm talking about.

Domonic Brown had all of two home runs and a rather unimpressive .692 OPS, convincing many that the former top prospect was a 25-year-old bust. Since that Sunday, Brown has hit 15 homers in 44 games to go along with a .956 OPS, a pair of NL Player of the Week awards, and an NL Player of the Month award, just got good measure.

Following that Sunday win that put them at 6-6 for the season, the Phillies went and lost four straight games to put them squarely behind the eight ball. Will they meet a different fate this time around? Only time will tell, but the next seven games are against the Milwaukee Brewers (22-35) and Minnesota Twins (26-29), so things certainly might be looking up for the Phils.