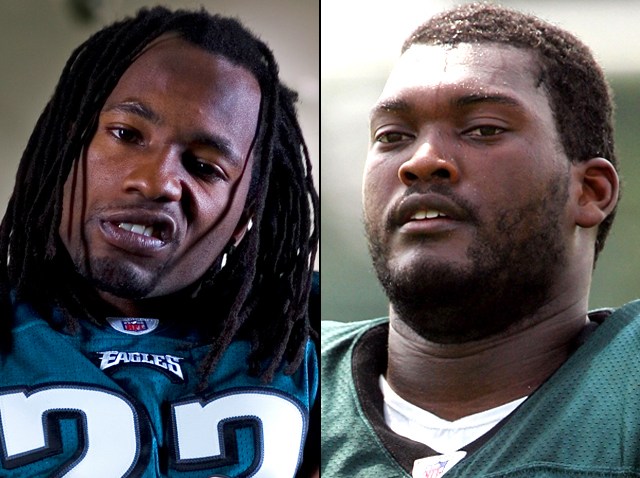 The Eagles were short tow starters when they landed in Dallas Saturday as DB Asante Samuel and Winston Justice were left behind due to injuries.
Asante will miss his third-straight game Sunday when the Eagles play the Cowboys. He practiced briefly this week but was left home after not being able to show that his knee was healthy enough to play.
Jay Cutler and Matt Schaub gashed the Birds D the last two games as Asante sat out. The ball-hawk would have likely had some chances to add to his league-high seven INTs especially with interception-prone Jon Kitna (159 career interceptions to 163 career TDs in 135 career games) under center for the Boys.
Joselio Hanson will step into the starting lineup with Asante on the mend.
On the offensive side of the ball the Eagles must play without Justice. The big right tackle also was left home with a knee injury. King Dunlap will make the third start of his career in place of Justice. The 6-foot-9, 330-pounder will have his hands full while trying to protect Michael Vick from Boys' rushers DeMarcus Ware and Anthony Spencer.
Beside Samuel and Justice the Eagles will be without linebacker Omar Gaither who was listed inactive for the second time this season.
The rest of the Eagles inactives were TE Garrett Mills, OL Austin Howard, DE Daniel Te'o-Nesheim, CB Brandon Hughes and third-string QB Mike Kafka.
The Cowboys inactive list was headlined by RB Marion Barber and injured QB Tony Romo. The rest of the Boys out for Sunday night were LB Victor Butler, LB Kenwin Cummings, DE Clifton Geathers, G Phil Costa, T Jermey Parnell and T Sam Young.