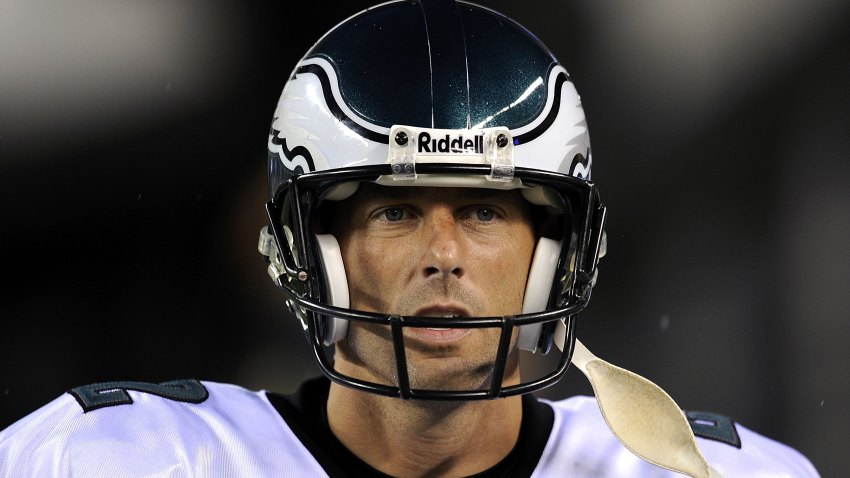 Kicker David Akers is usually pretty reliable. So reliable, in fact, that he has a career 81 percent success rate -- making his three misses at field goals of 37, 47, and 37 yards on Sunday something incredibly out of the ordinary.
Freak incident? Act of a vengefull god? Some say no. Some say the blame lies with boobs.
Akers [missed] those attempts while wearing a special pink Reebok shoe signifying the fight against breast cancer. He said he wore it in honor of his mother, who battled the disease. But he discarded it in favor of an old reliable [shoe] for the one FG try that would be successful.

Akers, for his part, declined to become forever known as the guy known who blamed three missed field goals on breast cancer.
"I kicked with it in the pre-game – a 63-yarder, then a 54-yarder toward the locker room. I had a great pre-game," he said. "I kicked with it all week and didn't have an issue with it. I just went back to a trusty [old shoe] for the last one. But I don't think it was the shoe. I think it was the person that was wearing the shoe."
Yeah, like maybe that person ate some bad chicken or couldn't concentrate. Who knows. It's suspicious enough, however, to have angered the gentlemen at Bleeding Green Nation, who tied the pink shoe to complaints about the pink ribbon-logo'd footballs the NFL is using throughout October.
...if there is even a 0.001 percent chance of the logo negatively affecting gameplay, don't you think that is reason enough to discontinue using that piece of breast cancer awareness equipment?

On the contrary. If there's a .001 percent chance a logo negatively affects gameplay, we should add more logos and immediately get the CFL involved. Imagine how much more funny a quarterback spiking the ball into his groin would be if the ball were entirely pink.