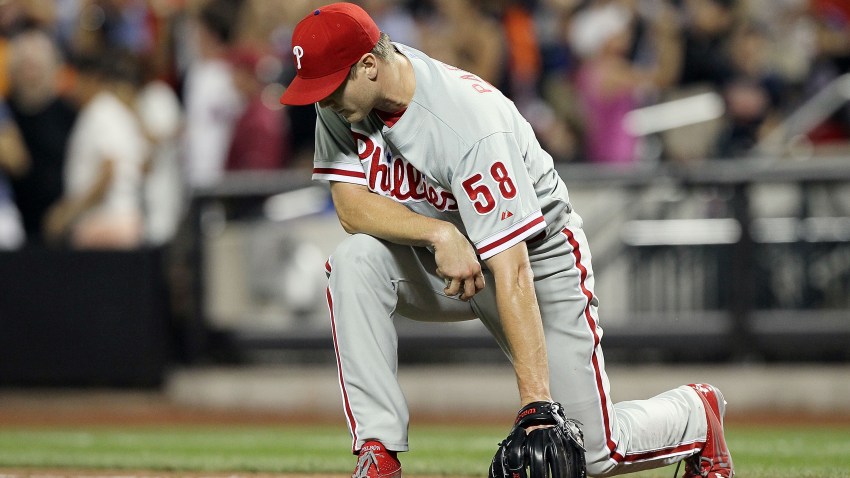 On Wednesday afternoon, the Philadelphia Phillies were one out – one measly little out – away from a five game winning streak, as well as a sweep against the Los Angeles Dodger, which would have been the first Phillies sweep of the season. As you already know, they were unable to hold a two-run lead in the ninth inning, as Jonathan Papelbon, who has been great this season, gave up a pair of runs on four hits in his third straight day of work.

Predictably, there was some outcry about his performance after the game, and how he is overpaid and overrated and yada yada yada. You know, it's the kind of things that emotional fans say after a tough loss like the one on Wednesday.

But you know what? Papelbon didn't pitch that bad. Not at all. A quick look at his box score would indicate that he did not pitch as well as he usually does, and while that is true, it's also worth noting that, for all intents and purposes, Papelbon pitched pretty darn good in his appearance on Wednesday, and was victimized by bad luck more than bad pitching.

Luck? Yes, luck. Baseball, like anything and everything else, is beholden to the governing laws of the universe, which means things don't always go as planned, because sometimes bad hops happen. Sometimes, we refer to those things as "luck," because there isn't another word for it that can adequately explain that a swinging bunt – not a good piece of hitting at all – ended up being the game winner.

There are statistics that try to quantify and explain "luck" as it pertains to pitchers and hitters, but I'll leave that to the likes of Crashburn Alley (well worth your time if you are into advanced statistics and great writing), but I did want to say a little something about Papelbon's appearance on Wednesday, and how he was the victim of bad luck, and not really bad pitching.

Let's take a look at how things went down:

With a two run lead and the bottom part of the Dodgers order coming up in the tenth, it figured to be a fairly easy outing for the closer, who earned saves in the first two games of the series. That changed a bit after the light-hitting Luis Cruz hit a well-struck double to lead off the inning, but Papelbon pressed on, and would strike out A.J. Ellis to get the first out.

Former Phillie Bobby Abreu stepped into the box, and with a man on second, fought off a 2-2 pitch that lazily looped down the left field line and into no man's land. It scored Cruz from second, and it went into the books as an RBI single, despite the fact that it wasn't hit hard and that Abreu didn't particularly put a good swing on it. It just happened to land in the perfect spot: along the left field line, halfway between third and the corner in left, and just fair.

With one away, Papelbon faced Tony Gwynn Jr, who swung at a 3-1 pitch and hit it no more than eight feet. Like Abreu's hit, it was in the perfect spot: on the third base side of the mound, and far enough away from both Papelbon and Carlos Ruiz that a play on Gwynn at first would have been impossible.

At this point, things are dicey: first and third, one away, and a one run lead. But still, only one hard hit ball in the entire inning. And with the tying run 90 feet away, Papelbon sits down Mark Ellis on three straight pitches to record the second out of the inning.

With two away and the Phillies clinging to a one-run lead, Matt Kemp – who was hitting everything earlier in the year until his injury – stepped into the box. It's about as real as it gets, as Kemp is the best hitter in the Dodgers lineup and the one guy that can do the most damage to an opposing pitcher. He swung at Papelbon's first pitch and hit a grounder in the hole at shortstop, and despite Jimmy Rollins' best efforts, was able to beat it out – just barely – and knock in the game-tying run.

Papelbon was able to retire Andre Ethier to end the inning, but the damage was done, and the Dodgers would go on to win the game in 12 innings.

It's too bad, because Papelbon didn't really pitch poorly. Sure, he was probably a little gassed from having pitched in the two prior days, but when you look at the four hits that he gave up, it's incredible, because only one of them was even hit hard. The other three were just fortunately placed, and that's it.

But that's just baseball. Sometimes things go your way, and sometimes they don't. On Wednesday, the Dodgers were the benefactors of well placed hits, and not great hits. Was it Papelbon's fault? Technically, yes, because he was the guy on the mound. But at the end of the day, he and the Phillies were victims to bad luck more than anything else.