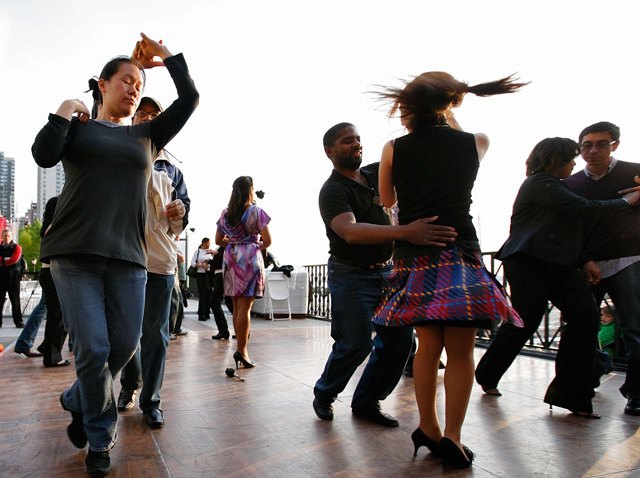 It's Five O'Clock Somewhere: Chef Jose Garces has it figured out just about everywhere--first with an Iron Chef win and now with happy hour on the weekend. Make a stop at Village Whiskey this Saturday to try $3 snacks, $4 draught beer, $5 red and white wine, $6 specialty cocktails and $7 craft whiskey from 2 p.m. through 4 p.m. This week's whiskey and cocktail includes Ransom's Whippersnapper Whiskey (a distilled Oregon whiskey) and The Martinez (Old Tom gin, maraschino, sweet vermouth and Angostura.) Village Whiskey, 114 South 20th Street, Philadelphia, Pa. 19103, +21, 2 p.m.
Fight for Cure: "Never give up" is the message heard at Saturday night's Fight for Cure Ribbon Ball. Head to the Loews Hotel to help raise funds and awareness for the Kimmel Cancer Center at Jefferson Hospital. The upscale party will include music, a live and silent auction and tons of prize giveaways. Tickets begin at just $50 to schmooze with local celebrities, party the night away and support a cause that impacts Philadelphians. Loews Philadelphia Hotel, 1200 Market Street, Philadelphia, Pa. 19107, +21, $50, 9 p.m.
Salsa Night: Get caliente Saturday night at the Painted Bride. The local art center transforms their theatre into a salsa showcase featuring Foto Rodriquez y Charanga la Unica y Tony Maldonado y su Orquesta. If you don't know how to salsa, come early for free lessons because this party is sure to have you on your feet all night. Painted Bride, 230 Vine Street, Philadelphia, Pa. 19106, $25, 9 p.m.
Foodie Extension: What's better than Xochitl extending their restaurant week through Sunday--the fact that the yummy Mexican hotspot also includes five courses (most include three) on their menu. For just $35, try their fresh guacamole, ceviche, empanadas, chorizo, chicken, mahi mahi and plenty more traditional and modern dishes. Xochitl, 408 South 2nd Street, Philadelphia, Pa. 19147, 5 p.m.
The Temper Trap: We know you've heard their music on the radio, now see The Temper Trap this Sunday at the Trocadero. The Aussie band known for hits like "Sweet Disposition" and "Fader" have blown up the pop-rock charts since last year. Sunday's show (for less than $20) is a must-see for everyone. Trocadero Theatre, 1003 Arch Street, Philadelphia, Pa. 19107, $18.50, 7 p.m.

Got a Tip? E-mail Us.
Still need more to do? See our events calendar.