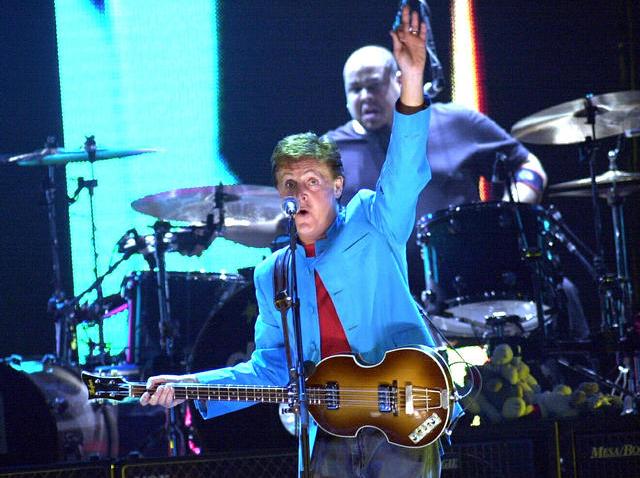 Ladies Night: R&B songstress Rihanna joins Hollywood bad girl, Ke$ha, Saturday night at the Borgata. The party hit-makers invade Atlantic City as part of the "Last Girl on Earth Tour." Ke$ha continues the party at A.C. hotspot, Mixx, with hip-hop producer Jermaine Dupri. Borgata Hotel Casino and Spa, 1 Borgata Way, Atlantic City, Nj. 08401, $24.25, 7:30 p.m.
A Beatle is Back: Sir Paul McCartney invades the Wells Fargo Center (formally the Wachovia Center) Saturday and Sunday night. The former Beatle and rock star, who has accomplished just about everything under the sun, is ready to show Philly a good time. Tickets begin just under $100. Wells Fargo Center, 3601 S. Broad Street, Philadelphia, Pa. 19148, $65, 8 p.m.
Move and Groove: Mixing samba, funk and reggae together, Brazilian drumming sensation, Philly Bloco, hit the main stage at World Café Live. This Saturday night, work on your moves and dance to the earth-shaking rhythms stemming from the 20-piece band. World Café Live, 3025 Walnut Street, Philadelphia, Pa. 19104, $12, 9 p.m.
Electric Feel: Brooklyn duo MGMT are in town Sunday night. The psychedelic rock group just released their second album, Congratulations, with many fans appreciating the change in sound and some wondering if the group still has the power to score a second Grammy nod next year. See the crazy duo for yourself at the Mann Center. Mann Center for the Performing Arts, 5201 Parkside Avenue, Philadelphia, Pa. 19131, $35.50, 7:30 p.m.
Enjoy the Pour: Ahh, beer and baseball--the two go hand-in-hand. This Sunday, head to The Pour House Tavern in East Falls to watch the Phils and enjoy beer and wing specials all day. Choose from $2 Miller Lites, Miller High Lifes, Coors and Coors Light to begin your night. Bring a friend and split a $10 Flying Fish pitcher or a Brooklyn pitcher. Wings are only 35-cents so order enough for dinner and dessert. Pour House Tavern, 4213 Ridge Avenue, Philadelphia, Pa. 19129, +21, 8 p.m.

Got a Tip? E-mail Us.
Still need more to do? See our events calendar.