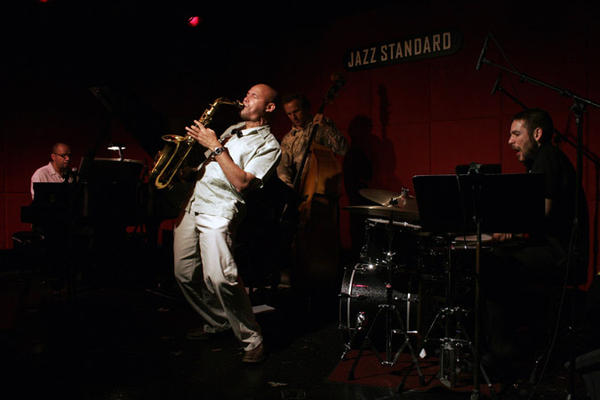 Latin Jazz: This Saturday night nestle up with your honey at the Painted Bride and enjoy the sounds of Latin jazz great, Miguel Zenon. The saxophonist and composer incorporates his Afro-Puerto Rican heritage and a variety of jazz techniques into beautiful music called plena. Zenon's his latest album, Esta Plena, was nominated for a Grammy in the Best Latin Jazz category. Catch all the action this weekend not once, but twice in one night. Painted Bride Art Center, 230 Vine Street, Philadelphia, Pa. 19106, $25, 7 p.m., 9 p.m.
A Coupla White Chicks: See the witty comedy, Coupla White Chicks Sitting Around Talking this weekend at the Adrienne. The play follows two housewives' trials and tribulations dealing with each other and society. See their unlikely friendship blossom and captivate the crowd through their lessons learned. This Saturday night is opening night, which includes wine and hors d'oeuvres. Treat your Valentine sweet this year for the Sunday show including a special reception with wine and chocolate. The Adrienne, Second Stage, 2030 Sansom Street, Philadelphia, Pa. 19103, $18-$22, 8 p.m.
Heartbreaker's Ball: Feeling bitter because you don't have a Valentine this year? Head to the 7th Annual "Heartbreak's Ball" Anti-Valentine's Day party at Sole Food restaurant located in the Loews Hotel. The bash includes a prize wheel, music from superstar Ed Smooth and a night full of singles like yourself. Plus, you can enjoy drink specials on vodka, beer, cocktails and champagne. Participate in a few dating games if you choose just make sure you RSVP here. Tickets are $10 if you're not on the list. Sole Food, Loews Hotel, 1200 Market Street, Philadelphia, pa. 19107, +21, Free, 8 p.m.
Soul Jam: Philly's filled with soul, so why not bring out your soulful spirit this Valentine's Day at the Valentine's Soul Jam. Sunday afternoon hear the sounds of The Stylistics, Emotions, Ray Goodman and Brown, Blue Magic Persuaders and New Birth at the Liacouras Center. Sing along to each act's hits and reminisce about the good ol' days. Plus, the show will be done early enough you can still take your Valentine out to dinner. Liacouras Center, 1776 North Broad Street, Philadelphia, Pa. 19121, $35.50, 3 p.m.

Valentine's Dinner: Celebrate life, love and good food this Valentine's Day at Positano Coast. The cozy Italian restaurant is offering a scrumptious menu fit for any food lover. Dine in the romantic Sopra Lounge as you try their prime N.Y. strip, salmon limoncello and wild boar ragu. The restaurant is a BYOB so feel free to bring your sweetheart's favorite bottle of wine to dinner. Positano Coast, 212 Walnut Street, Philadelphia, Pa. 19106.