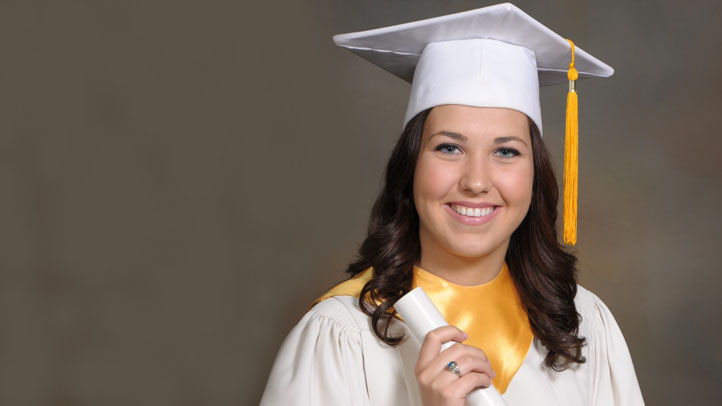 Mallory Tadley is the salutatorian for Saint Basil Academy.
For her entire life, she has been a member of Our Lady of Good Counsel Parish in Southampton, Pennsylvania and attended their grade school from pre-kindergarten until eighth grade. While at Saint Basil Academy, Mallory has been student council president for three years, played volleyball while holding the position of captain her senior year, served as a peer editor for her school's writing center, and as a religious retreat leader. In addition to this, Mallory also pioneered the new broadcast program at her school, Panther Tales, and acts as an executive producer. Mallory plans on attending Villanova University in the fall and hopes to study for a career in journalism.
Here is the speech Mallory will give at the graduation ceremony.
---
Good morning Sister Lydia, Mrs. Kost, Sisters of Saint Basil, faculty, family, friends, and fellow graduates.
Congratulations. We made it. Today is the day we graduate from Saint Basil Academy. These past four years have flown by as we prepared for this final moment. We've spent weeks writing research papers, days studying biology, and hours finishing religion homework. There have been days where we've spent more time at our school than our home, and saw our teachers more than our parents. So much of our time and energy has been spent working toward this single goal: graduating. Now that we're here, what do we do? First we stop. We think. We breathe. What is it that we are really leaving with once we graduate from Saint Basil Academy?
As I prepared to write this speech, I turned to the guidance of a wise teacher. She advised me to try to think of a term that best described my class. Thousands of words ran through my head, like passionate, motivated, hilarious, brilliant, and so on. After much thought on this subject, I decided to give it a break. Then, when I least expected, it hit me. I know it's common to say that some of your best thinking occurs in the shower, but I never would have imagined finding inspiration here.
My favorite skin care line is called Philosophy. Each bottle of their merchandise is marked with their own philosophy of life, most of which go with the theme of grace. One of my favorite products, Amazing Grace, has an inspirational message on its bottle which reads:
"Life is a classroom. We are both student and teacher. Each day is a test. And each day we receive a passing or failing grade in one particular subject: grace. Grace is compassion, gratitude, surrender, faith, forgiveness, good manners, reverence, and the list goes on. It's something money can't buy and credentials rarely produce. Being the smartest, the prettiest, the most talented, the richest, or even the poorest, can't help. Being a humble person can and being a helpful person can guide you through your days with grace and gratitude."
From our scuffed up saddles and tattered sweaters to our pristine white gowns that we wear today, it is evident that we have grown in grace over the past four years. We have made a transformation with poise and confidence. Though it is with maturity and aging that our grace develops, it is Saint Basil Academy and the people within it that have facilitated its progress. So, how can we perceive such a transformation?
As students, athletes, and artists of Saint Basil Academy, grace has been embodied in us. All of us know the response strangers give when we simply state that we are Basil Girls; the elegance and class of our kind is renowned and acknowledged. Our gym is covered with banners recognizing us for sportsmanship because as competitors, we have accepted both victory and defeat with dignity and pride. Our sisters who creatively filled our years with drama, music, and art did so with keen insight and talent. They shared their gifts selflessly, with confidence, with beauty, and with joy. But mainly, our grace was nurtured by the acts of kindness that occur each and every day. Though that at times these deeds go unnoticed, they have seeped into our fiber and built our character. When we hold the door for someone, share notes with someone who was absent, say a quick hello to a locker-buddy, or simply share the microwave, our grace makes an impact on someone, an impact that could last a lifetime. Now that we have that grace, how can we take it and carry it with for the rest of our lives?
After this milestone of our life journey, we will travel to another: college. With it, new challenges and obstacles will come at us from all different directions. However, a teacher once said to me, "Basil girls are brave, even when they don't think they are;" this courage comes from our grace. We must treat these challenges with the grace we have gained these past four years. By practicing this grace, our happiness will thrive and be evident. By practicing this grace, we will contribute to the betterment of the world and those around us. By practicing this grace, we will have the bravery to tackle all of life's trials. Not only in college will we need this grace, but for the remainder of our lives. How we get to our destination is just as important as what we do after we reach it. Our grace will give us the composure and refinement to make our way through life's journey honorably and respectably.
It is true that we would not be ready for this next step in our lives if it were not for certain people. Let us show our gratitude to those who have led us to this moment. The love, humility, and grace of the Sisters of Saint Basil have surrounded us each day with God's love and shown us the way to be loving, courteous, able young women. As fine, young women of the Academy, reverence and good manners have been instilled in us by these commendable and esteemed women. The faculty and staff of Saint Basil Academy who so selflessly shared their knowledge, passion, and hearts have brought us here today, prepared to carry on their message. One of the traditions of Saint Basil Academy is educating the whole person. It is evident that by our administration, faculty, and staff living by this belief, we have all transcended the ordinary and have become more understanding, spiritual, and dignified. As sisters of the Class of 2013, we have shared lessons of compassion, strength, and appreciation from one another, caring for our sisters and cherishing the love they have for us. Together, our faith was reaffirmed and forgiveness was taught to be valued. And above all, our parents and families, and personally my own grandmother, whose sacrifice, guidance, and unconditional love have carried us throughout these years, are the foundation for our lives and futures.
As we celebrated the end of learning about lobbyists and bills during my last AP Government class this year, we played some Summer Hits of the 2000s radio and enjoyed each other's presence one last time. After jamming to some Jason Mraz and Vanessa C arlton, a cheesy, fan favorite came on: Closing Time by Semisonic. We all sang along to the lyrics, "Every new beginning comes from some other beginning's end." Though we have reached the end of this journey, we start a new one. This new beginning gives us a sense of hope, a sense of destination, and the energy to get started. As our high school career comes to an end, we have all received a passing grade in the subject of grace, and if I might add, with flying colors. With the grace and gratitude we have fostered during our time at Saint Basil Academy, we are well equipped to begin our next journey, and it will be as beautiful and incredible as we hope for it to be.