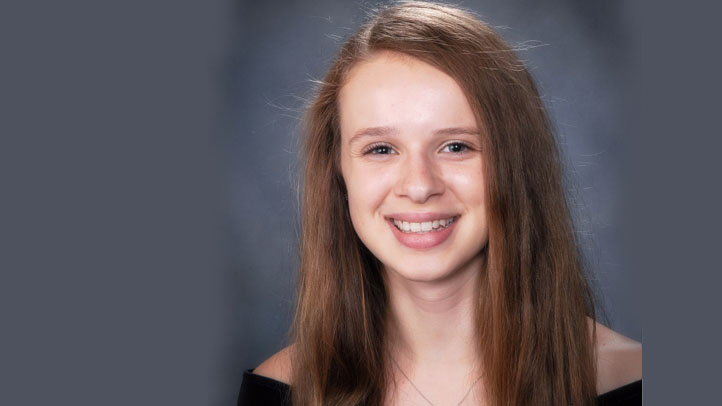 Kate Riga, 18, is the student commencement speaker for Merion Mercy Academy.
Kate is in the top 3% of her class and has had perfect attendance for four years. She is a Ministry Team Leader, in the Handbell Choir, and a Varsity Tennis player. She is a member of the National Honor Society, National Latin Honor Society, and the National Math Honor Society. This fall, Kate will be attending Georgetown University.
Here is the speech Kate will give at the graduation ceremony.
---
Three women sit rigidly in frilly, stiff white dresses, hair pins poking their scalps, sweat trickling down their necks. They put on their solemn half-smiles for the photographer and wait for the blinding flash. Memories of their years at Mater Misericordiae race through their minds - glimpses of specimens examined in Botany, strains of chants uttered in Latin, and the echoes of stars charted in Astronomy now indistinguishable from the stars caused by the photographer's flash. They recall struggling to concentrate on their studies at St. Isadore's (the small house on campus) as the thunderous noise from the popular race track across the street intrudes. The heat in the dim room is oppressive but the memories are vivid. These women are uncomfortable, they are nervous…but most of all, they are triumphant.
Good evening Sister Barbara, Ms. Danovich, faculty, parents, and of course, my fellow classmates. The year is no longer 1895. Those three courageous, ambitious women – the first graduating class of the school for girls to become known as Merion Mercy Academy -- are now frozen in time and captured in a small, framed portrait in the upstairs hallway. The name of the school is certainly not the only thing that has undergone drastic change over the years. We no longer wear the lacy dresses or the elaborate up-dos. Our lifestyles and our opportunities are worlds away from theirs. And yet, there is a vital bond that transcends the changes and years, connecting us to our forbearers: we are all Mercy women.
Our facades change with the times and the styles, but the inner components that make up a Mercy woman never change. The first component is so integral, it's included in our title: mercy. It is that vital part of a woman of Mercy that stirs in her when she witnesses injustice or suffering. That impossible-to-ignore call to action to relieve the pain of another, for no other reason than that it's the right thing to do. It's the gospel message we learned in class put to use outside the classroom. Manifested through the years in service trips, volunteer work, and every day acts of kindness, a good heart is part of the package.
The next indispensable part of a Mercy woman is her passion. Her passion for learning keeps her awake on long, lonely nights studying in dim light when it feels like the whole world is asleep. Her passion for sports keeps her practicing long, arduous hours, reveling in the unobserved challenge, the thrill of pushing her body to its limit. Her passion for writing pushes her to put pen to paper when draft after draft lies crumpled around her feet. Her passion for art and music allows her to express herself, without worrying about how others perceive her work. This drive, this unshakable work ethic, sets Mercy women apart. We commit to our interests mind, body, and soul – taking gratification from our successes and learning from our failures.
The last aspect of a Mercy woman spring from our foundress herself: Catherine McCauley. Catherine possessed what some have termed "tender courage." That description captures the quality perfectly: Mercy women are brave. From those three early graduates traveling unchartered territory, becoming educated when it wasn't stylish or even accepted; to a group of young missionaries braving the horrors of poverty and ignorance on a service trip; to the strong, lone voice interceding when a vulnerable person is bullied; to a confident student volunteering new ideas or questioning old ones in the classroom; to all of us going on to college, or military service, or the workforce knowing, without doubt, that our sex is not a weakness, but the source of our greatest strength.
We are an unshakable sisterhood, forever bonded together by these qualities we share. Wherever we go next, whatever we choose to do with our lives, we will always be tethered here, to this school, by our history, our experiences, our growth and our faith. We are Mercy women. We are merciful, we are passionate, we are brave. We are triumphant.