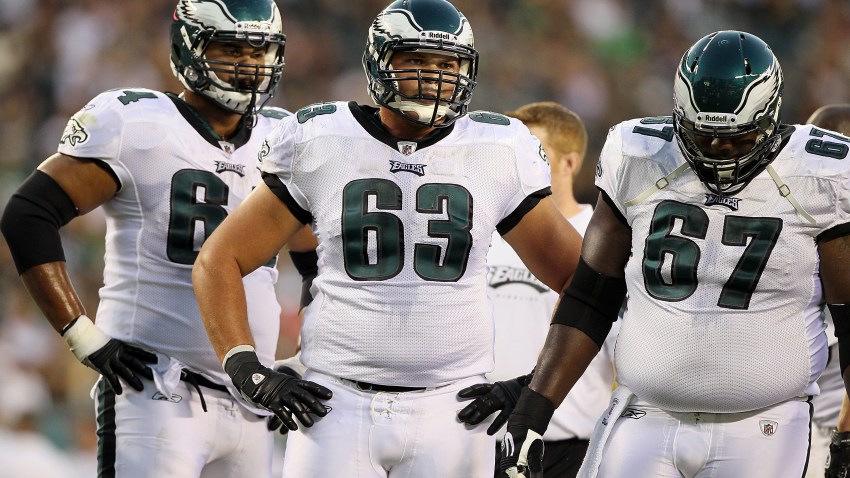 Geoff Mosher of The News Journal reports today that Danny Watkins, the Eagles first-round pick this year, will replace Kyle DeVan as the starting right guard this Sunday against Buffalo for his first NFL start.
This is big news for Watkins, obviously. After the Eagles gave him every chance to start in the preseason, Watkins looked completely unprepared to start. There were certainly limiting factors. He was hurt by the lockout and a brief holdout, both of which prevented him from making the transition to the NFL as fast as possible.
Still, at 26 years-old, Watkins was supposed to be NFL-ready when he arrived in Philly. The fact that he didn't even dress for three out of the first four games strikes major doubt into estimations of Howie Roseman's drafting, especially when the starter DeVan was so bad. Pro Football Focus pegged DeVan with the blame on both 49ers sacks, as well as four QB pressures last week. Meanwhile, the offense couldn't buy a first down in short yardage. But really, how much did the Eagles expect out of a guy they pulled off the street a week before the season started?
With this news, we're left wondering if Watkins was promoted due to his own progression or because the Eagles simply had no other choice. The jury is definitely still out on Watkins, and I'm not ready at all to write him off just because he couldn't start right away. But I'm leaning toward the second option for two reasons.
First, nothing has really changed since Sunday when the Eagles decided that Watkins wasn't good enough to put on a uniform. He couldn't show sudden progress in practice just a day or two later. The only thing that happened recently was the coaches reviewing the game tape and seeing how bad DeVan was against the 49ers.
Second, promoting Watkins mirrors a move the Eagles made just a week ago, when they officially promoted Nate Allen to the starting lineup. Another high draft pick, Allen had been dogged with injuries but also looked completely out of his element in the preseason. He wasn't inserted into the lineup because he healed or because he suddenly fixed his problems. No, it took a tackle "attempt" by Kurt Coleman against the Giants. Since that point, Allen hasn't exactly looked like a stud, either.
The Eagles figured that if they're going to get beat, it might as well be with the guys they've recently invested top picks in. As such, the countdown to Jaiquawn Jarrett's promotion begins… right now.