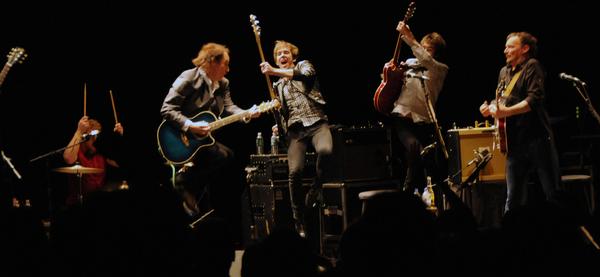 Big Buck Hunter: If you're a video game fan, we know you can probably kick some butt playing Big Buck Hunter. Test your skills tonight at Cavanaugh's in Rittenhouse in their King of the Kill Tournament. $15 gets you in the door and includes a two-hour Red Dog open bar, down south country buffet, prizes, giveaways and, of course, respect. Random animals are drawn as two players go head-to-head each round with a shoot out in the final round. Cavanaugh's Rittenhouse, 1823 Sansom Street, Philadelphia, Pa. 19103, +21, $15, 7 p.m.

Locksley with Giant Mind: They were just on The 10! Show last week, now see Locksley perform tonight at the M Room with opening acts Giant Mind and Life in Antarctica. With a Kinks meets Beatles sound, Locksley is the new indie band to keep your eye on. Hear this upbeat, updated British invasion sound in their new song, "Don't Make Me Wait." Check out Locksley along with tunes from other local talent for less than $10. The Manhattan Room, 15 West Girard Avenue, Philadelphia, Pa. 19123, +21, $8, 8 p.m.

Bob Marley: Come see Bob Marley tonight at Helium Comedy Club. Of course we're not talking about the reggae singer, but the hilarious comedian with the same name. Marley has been featured on various television shows such as Late Night with David Letterman, Late Night with Conan O'Brian, MAD TV, Rodney Dangerfield's Comedy Cure and Comedy Central Presents. His humor is refreshing and interesting as his topics range from family problems, celebrities food and life. See him tonight as each day after the price increases. Helium Comedy Club, 2031 Sansom Street, Philadelphia, Pa. 19103, +21, $10, 8 p.m.