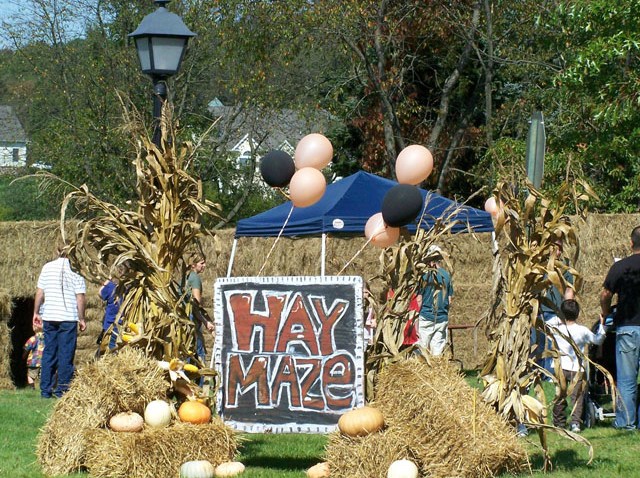 Halloween Spooktacular: This Saturday, celebrate Halloween fun with family or friends. Enjoy pumpkin painting, face painting and balloon sculptors at Giggleberry in Peddler's Village. From 11 a.m. to 5 p.m., shop, dine and take part in all the autumn festivities. There's also a haymaze to get lost in for hours. All activities are free with purchase of an Activity Pass. Peddler's Village, Routes 202&263, Lahaska, Pa. 18931, 11 a.m.
PJ Party: Why waste your time getting all dressed up when you can slip on something comfy enough to wear to bed? Come to the Troc Saturday night in your pajamas for some great music and drinks. For less than $10, hear the sounds of TJ Kong and The Atomic Bomb, Conversations with the Enemies, Saudi Arabia, Daniel Pujol and Some Beaus and Denny and the Jets. Plus, the Troc will be giving away teddy bears, just to keep with the pop punk pajama party. The show begins at 11 p.m., so bring your friends and rock out. Trocadero Theatre, 1003 Arch Street, Philadelphia, Pa. 19107, $6, +21, 11 p.m.

Lenny Kravitz: Grammy Award winner and American rocker Lenny Kravitz will be at the Borgata in Atlantic City this Saturday night. He's known for his retro rock, soul and pop style with hit songs like "It Aint' Over Till It's Over," "Are You Gonna Go My Way" and "American Woman." Kravitz is joined by Somalian rapper and singer, K'naan. K'naan has been gaining popularity in the States with his poetic energy and funky sound. Make a weekend out of your trip with some gambling and partying in the Borgagta. Borgata Hotel, Casino and Spa, 1 Borgata Way, Atlantic City, Nj. 08401, $84.99-$184.99, 8 p.m.

Lupus Loop: Make a difference one step at a time this Sunday morning. Run the 5K distance run or walk the two miles that are a part of the 18th Annual Lupus Loop at Fairmount Park. The course will take you on a paved path through Fairmount Park, passing such gems like Memorial hall and the Japanese Tea Garden. All proceeds will benefit the Lupus Foundation of America, Philadelphia Tri-State Chapter. Bring your family and friends to support a great cause that affects millions every year. 18th Annual Lupus Loop, Fairmount Park, 4231 North Concourse Drive, Philadelphia, Pa. 19131, $20, 9:15 a.m.
Pinups for Pit Bulls: If you're an animal lover but also love a good show, then Pinups for Pit Bulls is for you. This Sunday afternoon and night enjoy an outdoor festival filled with pet adoption, burlesque dancing and swing dance lessons all at Cheerleaders in the North East. For $15, you will not only be getting one hell of a show, but also help local pit bull rescue groups nationally and internationally. If you miss the afternoon show, don't worry there will be a night show as well and always a chance to adopt a pup. Support the pups this Sunday. Cheerleaders, 2740 South Front Street, Philadelphia, Pa. 19148, $15, 2 p.m.-6 p.m., 6 p.m.-1 a.m.