As Johnny Berry led us through a West Philadelphia row home, he warned of the last step on the basement stairs.
It was loose and unstable.
"I want to make sure that you all don't get hurt or anything like that because of the lighting," he told us.
The basement smelled of mildew. It was dark.
A mess of old papers, toys, an old air hockey table, and boxes upon boxes of who knew what confronted us. Clearly, Berry and a co-worker were going to be here a while.
"This is going to get dirty real fast," Berry said.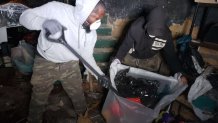 He was hired to clear out the property so the owner can rent it or flip it.
This is not the kind of work he saw himself doing.
"I would prefer to do something else, but this is what I'm doing at the time and I have to do it. I have a newborn son. He's almost three months old. And he costs, man," Berry told us.
He started his own business in last September after working for another company a couple of month.
"I like not having to be on someone else's clock. And the freedom to come and go as I please," he said.
Freedom is an important word for Berry. He was exonerated last summer after spending nearly 23 years in prison.
"It feels like I'm a new person and it's surreal," he said.
Berry was convicted for a 1995 murder in the Parkside neighborhood of West Philly.
At 16 years old, Berry was sentenced to life without parole.
The conviction was based on eyewitness testimony and an accusation from another person arrested for the murder that Berry was the shooter.
But it turned out Berry didn't commit the crime. The eyewitness was not reliable and the accusation was false.
Berry was part of a record wave of exonerations in Pennsylvania. He and 13 others were freed in 2019.
But Berry and the others immediately found out a hard truth: There is no law in Pennsylvania that compensates the wrongly convicted. There is no money or services for exonerees.
Here are the stories of six men wrongfully convicted, and how they are struggling to integrate back into society after years, even decades, behind bars.
"We get our freedom, but we still have to endure and enjoy the quality of life. And part of that is working. If you come out without any type of education or skills, how are you expected to survive?" Berry said.
Unlike Pennsylvania, 35 states, as well as Washington D.C. and the federal government, have compensation laws.
"Pennsylvania is really out of step with most of the rest of the country," Michelle Feldman of the Innocence Project says.
Feldman says that people who actually commit crimes and are then released on parole get better post-prison treatment, including re-entry services.
"If you're wrongfully convicted, you're entitled to less than if you had actually committed the crime," she said.
Other states offer financial consideration based on each year a person served. For example, New Jersey offers $50,000. Texas law grants $80,000. New York does not have a limit on its compensation.
Feldman, the campaigns director for New York chapter of the Innocence Project, says exonerees need more than money. Any law, she believes, should include services that will get them back on their feet.
"That includes in a lot of states, job training, tuition assistance, counseling, help with transportation and housing and health insurance and all of these things that, you know, really we take for granted that help us survive," Feldman said.
Other states that do offer money also offer services, including help with housing in California, physical and mental health care in Washington D.C., and job training in Louisiana.
Exonerees do have to meet certain criteria based on each state's statute.
"There are some states, for example, you need a gubernatorial pardon. Those are very hard to find," professor Jeffrey Gutman of George Washington University Law School said. " There are some states in which the exoneration has to be based on DNA analysis rather than some other cause of the exoneration."
Gutman uses The National Registry of Exonerations to analyze compensations.
Exonerations nationally skyrocketed in 2014, and hit a three-decade high mark in 2016 when 180 people across the country were freed from wrongful convictions, according to The National Registry of Exonerations.
"If you look at nationally, the average amount per year of incarceration that people have gotten under state compensation statutes is about seventy thousand dollars a year. The reason why it's that number is that New York and Connecticut and the District of Columbia have had or still have uncapped statutes and those states have reasonably generous (statutes). So that average amount has gone up," Gutman said.
---
HERE IS AN NBC10 DIGITAL EXCLUSIVE ON THE STRUGGLES OF ONE EXONEREE'S FAMILY:
---
According to The National Registry of Exonerations' website, there have been 2,551 exonerations in the United States since 1989. Eighty-one of those were through Pennsylvania state courts.
Some have turned to federal courts for help. While there is no law in Pennsylvania mandating wrongful conviction compensation, an exoneree can file a federal civil rights lawsuit.
"They have to plead and ultimately prove that a state agent, a state officer or a state municipality engaged in unconstitutional misconduct that deprived them of the right to a fair trial," Gutman said.
Civil rights cases can be difficult to prove with no guarantee the exoneree will get paid.
"(In Pennsylvania) half of (exonerees) filed civil rights cases. In roughly about half of those (that filed), there was a settlement or jury verdict in their favor," according to Gutman's analysis.
So about a quarter of Pennsylvania exonerees have been compensated.
"So often Pennsylvania is trailing in a number of things where we should be leading," state Rep. Christopher Rabb (D) of Philadelphia said in an interview.
Rabb plans to introduce a bill that would mandate compensation for the wrongfully convicted, both in the future and retroactively.
"How can we justify taking away 10, 20, 30 years of someone's life and not and not compensating them for something that the government did to them?" Rabb asked.
In his memorandum looking for co-sponsorship, Rabb writes, "When the state unjustly takes a person's liberty, it has a responsibility to help repair the damage."
He goes on to write, "Those who can demonstrate proof of their innocence will be eligible for $65,000 per year spent in incarceration, in addition to much-needed social services that would help them rejoin their communities."
That type of annual compensation requirement would actually be better for Pennsylvania taxpayers, Rabb argues, noting $29 million in payouts due to federal lawsuits.
"A better deal for taxpayers is to have a law that provides compensation," according the Feldman, because there is no limit to awards or settlements in federal civil rights cases.
And, she believes, it's better for the exoneree because there is a mandate to pay something.
Johnny Berry has a pending federal civil rights case. He understands that there is no guarantee he will settle or win.
He's fighting for and looking forward to a Pennsylvania compensation law.
"It would give an individual the opportunity to come home to something to support him financially, to be able to have some time to get emotionally prepared to take on the world," Berry said.