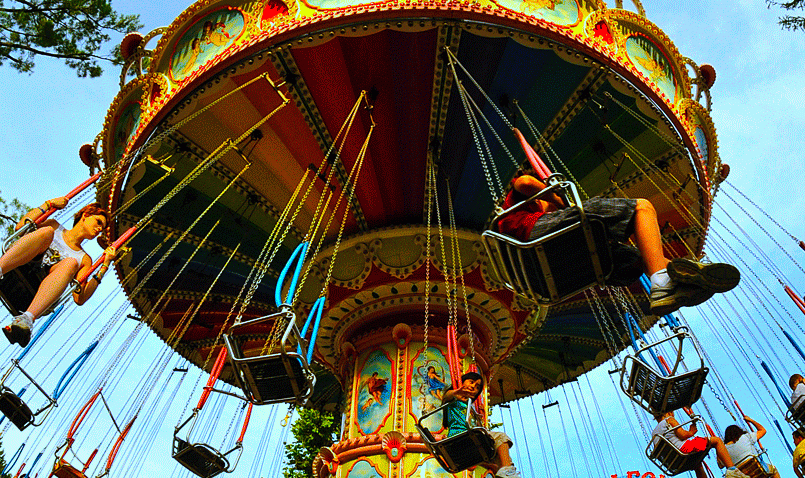 Tucked away in a quiet valley in Central Pennsylvania, just 125 miles from Philly, you'll find one of the most charming amusement parks in the country. It's also America's largest free admission amusement park. Yep, you heard that right... free admission. And if that isn't already music to your ears, how does free parking and free use of the picnic facilities sound?
Welcome to Knoebels Amusement Resort, picnic grove, and campground in Elysburg, Pennsylvania. This charming, family-run park has been in operation since 1926 and features more than 60 rides and a variety of attractions, five roller coasters (including two classic wooden ones), a haunted house and a grand carousel that dates to 1913. One of the largest in the world, the historic carousel offers riders 63 horses, three chariots and steel rings, just like in the olden days.
Other highlights include a giant swimming pool and water slides, laser tag, arcades, the tallest Ferris wheel in Pennsylvania (110 feet), a 55-foot-high log flume and a 50-foot-high Chute-the-Chutes ride.
For non-adrenaline junkies and the younger kids, an assortment of milder rides are perfect options. The park also features a miniature golf course, shooting gallery and a Bald Eagle habitat, in case you get bored.
Want to extend your stay? Camp out at the resort's 550-site campground or in one of the 52 cozy log cabins. For more information and hours, visit Knoebels.com.
Knoebels Amusement Resort
391 Knoebels Boulevard
Elysburg, Pennsylvania 17824
(800) 487-4386