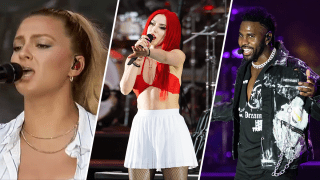 Editor's Note: A shooting after the concert left two police officers injured and sent people fleeing from the parkway amid the fireworks finale.
Welcome America Inc. organizers on Tuesday tweeted thanks to police and emergency responders and said its "committed to creating opportunities for our city to come together and celebrate safely."
---
Try not to sing his name and dance as pop superstar Jason Derulo took the Benjamin Franklin Parkway stage for the free 2022 Wawa Welcome America Concert. Popstar Ava Max and Grammy Award-winning singer Tori Kelly opened up and got the crowd dancing.
The star-studded concert featured performances by award-winning singer/songwriter Jason Derulo (back after performing without a crowd on July 4th, 2020), multiple-platinum selling popstar Ava Max and award-winning gospel and pop singer Tori Kelly.
Here is a look back at the performances:
Jason Derulo Rocks Philly
Derulo said he will be mixing old hits and new moves during his 1-hour set and he wound up doing just that.
These fans sure were ready to dance!
Once he took the stage he performed hits "Watcha Say," "Tip Toe" and "Wiggle"
Derulo performed Take You Dancing" before debuting "Slidin'."
Fans were treated the brand-new song "Slidin'."
Derulo had the viral dance move going during "Savage Love" and had people singing along to "In my Head."
People not only sang along but also danced as Derulo performed "Savage Love."
Derulo told the backstory of "Ridin' Solo" and mixed "Shots" into "Don't Wanna Go Home."
He had people bouncing to "It Girl," "Trumpets" and "Goodbye."
The popstar ended his set with "The Other Side," "Talk Dirty" and "Want to Want Me."
During his Philly-inspired rendition of "Talk Dirty" he sang about Philly cheesesteaks.
Ava Max Takes the Stage
Before taking the stage to perform "Kings & Queens" and other hits, Max told NBC10's Frances Wang and Rosemary Connors she had a Philly cheesesteak.
Max opened with "My Head & My Heart before launching into "Kings & Queens."
Max and her dancers brought high energy to the Parkway stage.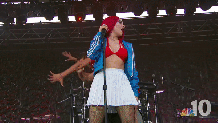 Max performed "Maybe You're the Problem," "Who's Laughing Now" and "Tattoo" in the middle of her seven-song set.
The show thrilled those in the crowd and at home.
Max wrapped her set with her hits "Sweet but Psycho" and "The Motto."
On Tuesday (the day after the event), Max address the shooting that took place after the show, tweeting she was "devastated" and "we are traumatized."
Tori Kelly Opens the Wawa Welcome America July 4th Concert
Kelly opened the show and said it was fun to "party with you guys."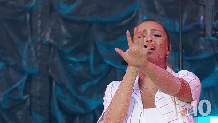 Her first songs were hits "Value" and "Hollow," getting the crowd to snap along.
Kelly then went into "Unbothered" and a medley of songs that included Lauren Hill's Doo Wop (That Thing)."
Kelly grabbed her guitar for a rendition of "Nobody Love."
She wrapped her set with an acoustic version of "I Was Made for Loving You" followed by "Coffee" and her hit "Should've Been Us."