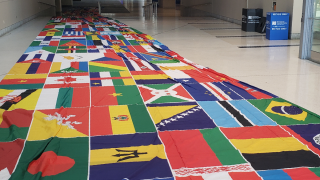 The birthplace of America will be honored in a special way on America's birthday.
The "Canvas of America," a 190-foot-long fabric comprised of 195 nations' flags, will be unveiled in Philadelphia's Independence Day Parade.
"The Wawa Welcome America Festival has always been about celebrating inclusivity," Welcome America, Inc. President and CEO Michael DelBene said. "This year we really wanted to shine a spotlight on Philadelphia's position as a global city."
The Canvas is also 18 feet wide.
Wawa Welcome America
16 days of safe, responsible, in-person celebration of Freedom and Liberty | June 19 – July 4, 2021
Forty volunteers from the Philadelphia International Airport, Global Philadelphia and team members from the Philadelphia International Unity Cup will carry it during the parade.
"The idea of the Canvas of America stemmed from this underling goal of stitching our unique communities together to create something beautiful and commemorative," DelBene said.
To catch a glimpse of the Canvas for yourself, head out to the 'Salute to America' Independence Day Parade on July 4th. Click here to see the parade route and more.