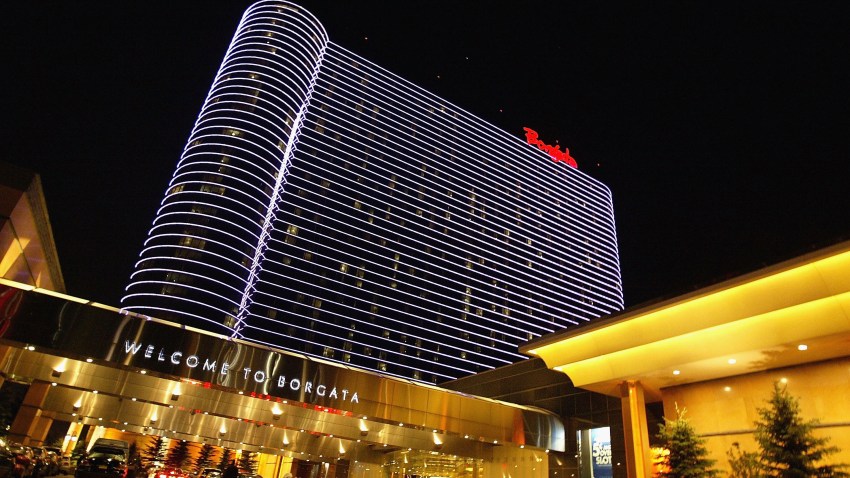 This article is sponsored by Delaware Valley Acura Dealers. To learn more the 2014 Acura RLX and to find a dealer near you, visit Delawarevalleyacuradealers.com.

Fuel efficiency is rarely synonymous with luxury cars. Unless, of course, you're referring to the new 2014 Acura RLX. Boasting a 31 mpg Highway Rating, this elegant yet nimble sedan allows you to burn up the road rather than the fuel in your gas tank.
Good news for Philly residents on the go. Suddenly, countless far-flung weekend destinations are all reachable on a single tank of gas or less. Which is why we've put together a list of our five favorite roundtrip getaways.
Where to, you ask? Take your pick between the shore or the country. Sure, New York, Baltimore and DC are all nearby, too, but the point of getting out of the city is, well, getting out of the city. Read on to plan your next road trip.
Princeton, NJ
Roundtrip 90 Miles
Located less than an hour's drive from Philly, Princeton is the closest destination on our list and a must for anyone looking for an easy day trip. Hit the road early, and you'll arrive in this posh college town in time for breakfast at
PJ's Pancake House
. Burn off those carbs with an architectural tour of the University, whose campus has everything from Revolutionary era buildings to soaring modern designs by Rafael Viñoly. Next up is the art museum, where you can puruse over 60,000 works free of charge and blissfully unbothered. After lunch, it's time to shop -- you'll find everything from glassware at
Simon Pierce
to LPs at
The Princeton Record Exchange
, one of the finest independent record shops in the country (just ask LCD Soundsystem frontman
James Murphy
, who got his start collecting vinyl here).
The Jersey Shore
Roundtrip: 204 Miles
We might still be a few weeks out from prime summer season, but it's never to early hit the Jersey Shore. Head to Atlantic City first for a fun Friday night. Located just 62 miles from Philly, you'll be there just in time to hit the restaurants, casinos and clubs. Book a room at the luxurious
Borgata
-- truly an oasis in this action-packed town -- then grab dinner at
Bobbly Flay Steak
or
The Palm
. After that, it's off to the casinos and clubs that have made this iconic town famous.
Save the rest of the shore for Snooki and head south to Cape May on day two. Fringed with beautiful beaches, this colorful, Victorian-era resort town is a gem. You'll love
Congress Hall
, a beautifully renovated Federal-style hotel that's been attracting seaside guest since the 19th century. Lounge by the pool, or with a cocktail in the hotel's lounge, then grab dinner at
Lobster House Fisherman's Warf.
Annapolis, MD
Roundtrip: 258 Miles
History-laden Annapolis packs big city action into its charming center. Amble down row house-lined, cobblestoned streets, pop into pubs brimming with microbrews and indie rock, and tour the
Naval Academy
. The best way to see the picturesque harbor is by water taxi, while no stay is complete without indulging in some world famous blue crabs plucked straight from the Chesapeake Bay -- head over to
Jimmy Cantler's Roverside Inn
, grab a mallet and wait for a server to dump a bucket on your brown paper topped table. When it's time to call it an evening, stay at
Scotlaur Inn B&B
(where you'll wake up to a complimentary breakfast from Chick & Ruth's Delly).
Hudson River Valley, NY
Roundtrip: 378 Miles
Art is on the agenda for this road trip north to New York's lovely Hudson Valley. First up is
Storm King Art Center
, where you'll view over 100 breathtaking sculptures dotting the 500 acre outdoor museum. Following a quick drive, you'll find yourself at
DIA:Beacon
, home to Dia Art Foundation's permanent collection. Works by modern art luminaries like Andy Warhol and Blinky Palermo abound in this 240,000 square foot industrial space (formerly a Nabisco facility), while the surrounding property is devoted to seasonal gardens.
End your day in Rhinebeck, a charming town boarding the Catskill Mountains that brims with culture. Stay at the historic Beekman Arms Inn, which counts George Washington as a former guest, but venture out for dinner at
Terrapin
(serving everything from tapas to short ribs) followed by an indie flick over some homemade cookies at art house cinema
Upstate Films
.
Montauk, NY
Roundtrip: 429 Miles
Head out to the tip of Long Island for a relaxing weekend in Montauk. Thanks to a bevy of bohemian-cool hotels and bars, Montauk is no longer the sleepy antithesis to the Hamptons that it once was, but you'll avoid the scene this early in the season. After a scenic drive on Saturday, spend the night at
The Surf Lodge
. The former motel is now emblematic of the shaggy surfer chic style that prevails in this enclave all summer long, but you don't need to be a hipster to enjoy its many charms, from bright, minimalist rooms to a round of cocktails and pitch perfect dinner on the expansive back porch.