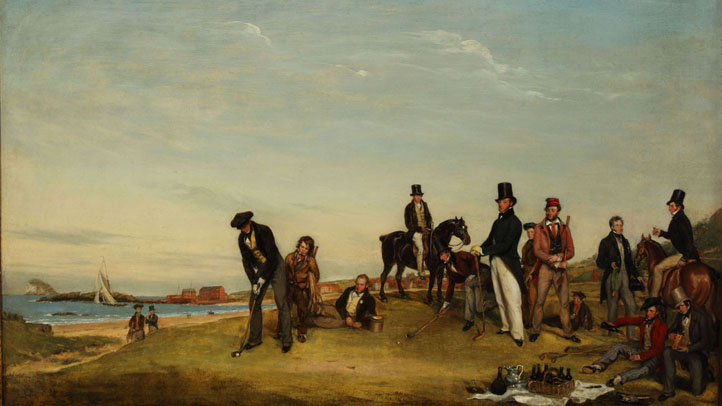 This article is sponsored by the Philadelphia Museum of Art. To learn more about the museum, its events and the current Art of Golf exhibition, visit Philamuseum.org.
Philadelphia golf enthusiasts will be treated to the centennial edition of the U.S. Open Championships, which will be hosted in June at the Merion Golf Club in Ardmore, PA. But that's not the only reason to celebrate.
To coincide with the tournament, the Philadelphia Museum is presenting
The Art of Golf,
an exhibition devoted to the artistic representation of the sport, through July 7. The centerpiece of the installation is Scottish painter Charles Lees' "The Golfers." Completed in 1847, the monumental painting--widely considered to be the most important golf painting in the world--depicts a match at the legendary St. Andrews. Comprised of fifty-four figures clustered around a two-ball foursome match, the seven-foot-wide canvas is rich with period details, from fashionable nineteenth century onlookers to the charming local "ginger beer girl."
In addition to Lees iconic work, as well as some of his portraits of well-known Scottish golfers, museumgoers will also enjoy antiques like an historic feather golf ball jacketed in bull's hide, a silver trophy, antique Scottish clubs of ram's horn, leather, and wood, and colorful attire that authentically recalls Victorian life on the famed Old Course at St. Andrews.
But, as any good golfer knows, no day on the course is complete without some 19th hole celebrations. That's why the Philadelphia Museum of Art has added
a few choice events
that pair food, drink and golf perfectly. On Friday, June 14, sip smokey single malts and indulge in a four-course Scotch Dinner (bacon wrapped dates and Roasted Duck Magret, anyone?) while taking in the day's action from Merion Golf Club. Or watch the tournament live alongside dad as you treat him to a Father's Day Brunch on Sunday, June 16, replete with everything from Belgian Waffles and made-to-order omelets to Roasted Scottish Salmon and Prime Rib.
To learn more about
The Art of Golf
and to make reservations to either event, please visit the
Philamusuem.org
.