Philadelphia and its surrounding counties always have something going on. Whether it's a Juneteenth parade, skate day, arts festival or wine festival, this area is full of fun every weekend in the summer. We've found the top (and affordable) choices of what to do this weekend, June 21-23, in Philly and New Jersey.
What: Celtic Fling and Highland Games
Celtic performers of all kinds will entertain at this multi-day event. There will be live music across eight stages, food and drinks, Highland Games contests, crafts, Irish dancers, Gaelic sports and more.
Where: Mount Hope Estate, 2775 Lebanon Rd., Manheim Pa. (Home of PA Renaissance Faire)
When: Kick-off concert Friday at 4 p.m., runs through Sunday
Cost: From $28
What: Red Bull Drop In on Go Skate Day
On Go Skate Day, four of Red Bull's street skaters (Tony Pudwill, Jamie Foy, Alex Midler and Zion Wright) will drop in for skate sessions with local skaters, demos and meet and greets.
Where: Paine's Park, MLK Drive and Ben Franklin Parkway, Philadelphia
When: Friday from 1 to 3 p.m.
Cost: Free
What: Philadelphia Juneteenth Parade and Festival
Celebrate the ratification of the 13th Amendment (also known as Juneteenth) with a parade and musical festival at the park.
Where:Malcolm X Park, 5100 Pine Street, Philadelphia
When:Saturday from 9 a.m. to 7 p.m.
Cost:Free
Celebrating Juneteenth With Parade Street Festival in West Philly
Enjoy this outdoor juried arts fest while also shopping for artworks, jewelry, ceramics, woodworks, sculptures and more.
Where:Main Street, Manayunk
When:Saturday and Sunday from 11 a.m. to 6 p.m.
Cost:Free to attend
What: Chester County Balloon Festival
Chester County's annual Balloon Festival is taking off this weekend. Look up at more than 20 hot air balloons floating through the sky and enjoy more than 100 vendors with live music and fireworks.
Where: New Garden Flying Field, 1235 Newark Road, Toughkenamon
When: June 21-23
Cost: $20 for adults; $10 for children (ages 7-12); free for children (ages 6 & under)
What: Doylestown Pride Festival
Doylestown is throwing its first-ever gay Pride Festival. The weekend will be filled with film viewings, a block party, karaoke, panel discussions and other celebrations.
Where: Various spots in Doylestown
When: Until Sunday
Cost: Varies
What: Art and Wine Festival at Peddler's Village
Enjoy wine tastings, performance art, painting classes, food and more at this two-day event.
Where:Peddler's Village, 2400 Street Road, New Hope
When:Saturday and Sunday from 10 a.m. to 6 p.m.
Cost:Free to attend
What: 50th Anniversary Weekend Celebration
Celebrate the Wetlands' anniversary with live music, arts and crafts, food trucks, kids activities and more.
Where:The Wetlands Institute, 1075 Stone Harbor Blvd., Stone Harbor, NJ
When:Saturday and Sunday from 9:30 a.m. to 4:30 p.m.
Cost:Free to attend
What: Summer Ale Fest at the Zoo
Visit the zoo for more than 150 different craft beers, food trucks, animals, face painting and live music.
Where: Philadelphia Zoo, 3400 W. Girard Avenue, Philadelphia
When: Saturday from 7 to 10 p.m.
Cost:From $55
What: Black Restaurant Week
This two-week long restaurant week celebrates the flavors of African, African American and Caribbean cooking at restaurants throughout the city.
Where:Various restaurants in Philadelphia
When:through Sunday
Cost:Varies
Have a Taste! It's Black Restaurant Week
What: Festival of Fountains
This fantastic fountain show features more than 1,000 jets, vibrant colors, music and more.
Where:Longwood Gardens, 1001 Longwood Road, Kennett Square, Pa.
When:through Sept. 29
Cost:Varies
What: Philadelphia Chinese Lantern Festival
Handcrafted lanterns illuminate the square after sun set each night, along with live performances and a beer garden.
Where:Franklin Square, 200 N. 6th Street, Philadelphia
When:through June 30
Cost:$18
Summer Bucket List: Outings for the Whole Family to Enjoy
What: Marvel: Universe of Superheroes
Check out this superhero comics and movies exhibit showing off Marvel's most iconic memorabilia, like props, costumes, sketches and more.
Where: The Franklin Institute, 222 N. 20th Street, Philadelphia
When: through Sept. 2
Cost: Tickets start at $35 for adults and $31 for children
Inside Marvel Universe at The Franklin Institute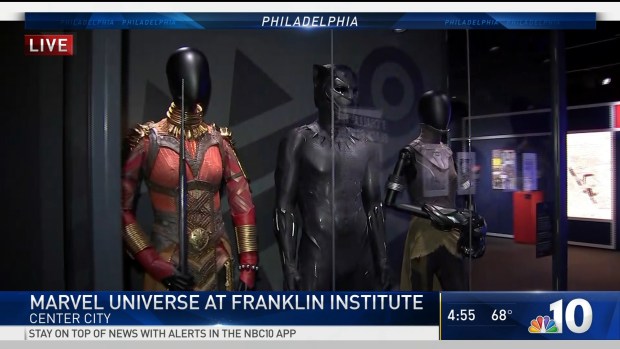 What: Creatures of Habitat: A Gazillion-Piece Animal Adventure
Life-size LEGO brick animals will fill the Philadelphia Zoo during this event in order to tell the story of endangered wildlife. Visitors can learn how human behavior impacts endangered species and be inspired to take action to stem the global change. The Zoo Key, a former local tradition, will also make its return with this exhibit. The Zoo Key will unlock secrets and stories about animals throughout the zoo.
Where:Philadelphia Zoo, 3400 W. Girard Avenue, Philadelphia
When:through Sept. 30
Cost:Zoo admission is $16 for child ages 2 to 11 and $19 for any 12 or older
A 'Gazillion' Reasons to Head to the Philadelphia Zoo
What: PHS Pop Up Garden
Throughout the summer this garden will host creative events, planet exchanges, arts and crafts for the kids and flower crown Fridays.
Where:15th and South Street, Philadelphia
When:Open through October, Monday through Thursday from 5 to 10 p.m., Friday and Saturday from 2 p.m. to midnight and on Sunday from noon to 10 p.m.
Cost:Free to enter