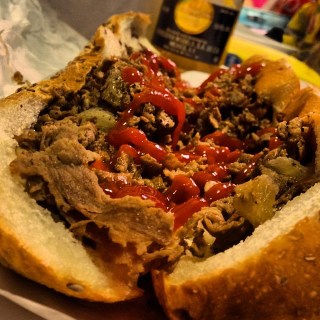 Ever had a Philly taco? It's when you get a cheesesteak and then roll it up into a giant slice of pizza.
The creation is getting national attention from a CityPass list of outrageous foods around the country.
Now, there's not a place (that we know of) who will actually make the whole thing for you.
But this bizarre Frankenfood seems to be the brainchild of a few inebriated who patron South Street.
Michael Phelps eats 12,000 calories after races, so this is totally ok, right..? #BroadStreetRun#PhillyTacopic.twitter.com/9irWUeWUN4

— Max Rappaport (@MaxRappaport) May 4, 2014
Philly.com's Michael Klein points out how it works. First, you go to Jim's Steaks and get a cheesesteak. Then you trudge a block down South to Lorenzo's pizza. Once there, order a jumbo plain slice.
Take the tapered end of the pizza, wrap it inside the steak, then roll and viola! you have the epitome of drunk food in your hands.