Most people do not associate football with magic, but in Philadelphia it is hard to do anything but.
If you haven't been following this season of America's Got Talent, you may not know Jon Dorenbos, Eagles' long-snapper, is also a magician.
After judge Ne-Yo used his golden buzzer on July 12 to send the two-time pro-bowler straight to the live shows, Dorenbos upped the stakes every time he competed during this season of AGT. Magic Eagles Going 'Back to the Basics' for AGT Finale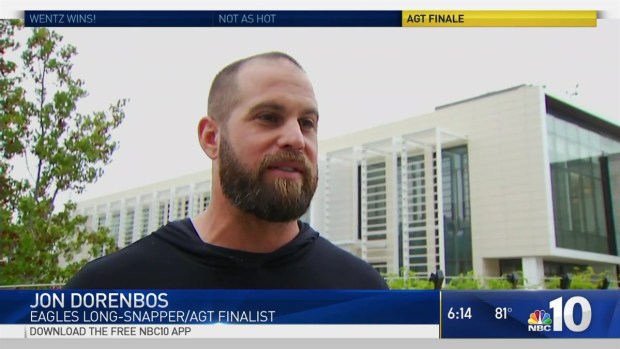 Dorenbos began his run with card tricks of a higher caliber than "Is this your card?" The long-snapper most recently advanced to the finals after he performed a trick that involved footballs, a map and some change. 'Magic Eagle' Talks About His Passion Aside From Football
He balanced his football schedule and TV schedule as he flew back and forth to compete on and off the field.
After the Eagles win Sunday over the Cleveland Browns, Dorenbos jetted to Los Angeles to prepare for his final act. Magic Eagle Jon Dorenbos Flies West for AGT Finale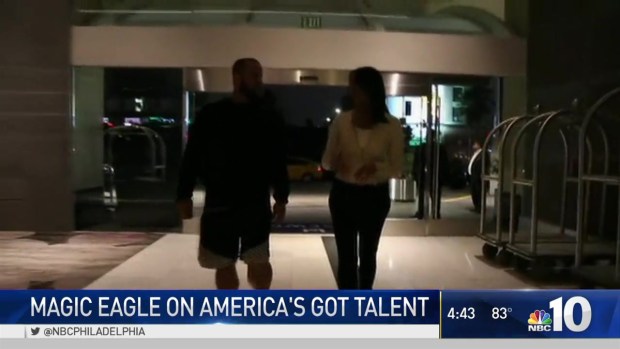 NBC10 reporter Jacqueline London also flew out to LA in order to talk with the magic man before he competes.
Watch Dorenbos compete live on the America's Got Talent Finale at 8 p.m. Tuesday on NBC10. After the competition, make sure to cast your vote.
Top Celeb Photos: Gabriella Pizzolo Camp LaunchEagles Long Snapper Jon Dorenbos Makes Americas Got Talent Final