Johnny Depp decided to make an appearance at the Disneyland Resort in Anaheim, California, on Wednesday to surprise park guests.
Instead of exploring the food, parades and other attractions, Depp headed straight over to the Pirates of the Caribbean ride for a special gig.
Dressed perfectly as his Captain Jack Sparrow character, the actor surprised dozens of guests as they rode in their boats.
JOHNNY DEPP WAS ON PIRATES OF THE CARIBBEAN WHILE I WAS ON IT AND IM SCREAMING pic.twitter.com/OsVRL8pmn7

— Maddie (@madikins531) April 27, 2017
You know those little Disney Myths like...Johnny Depp will dress up as Jack Sparrow and sit in the Pirates of the Caribbean Ride? Well... pic.twitter.com/oAyIIu1e56

— B. (@BaileyNielson) April 27, 2017
"Everyone was surprised, shocked and excited to see him," a witness shared with E! News. "He acted exactly like his character in the movies."
Stars at Disneyland & Disney World
Another theme park visitor added, "It was a surreal moment for everyone on our boat! Crazy experience. Best Disneyland experience our family has ever been a part of."
In videos captured on Twitter, Depp repeated lines from the movie while also interacting with parkgoers as he held onto his sword.
Johnny Depp Is filming on the pirates ride in Disney land!!!! Crazy!!!!!! pic.twitter.com/Klc1QyEKzR

— Tommy Williams (@Twiller0) April 27, 2017
The surprise comes as excitement builds for the fifth installment of the franchise. Titled "Pirates of the Caribbean: Dead Men Tell No Tales," the Disney flick follows Jack as he flees from Salazar (Javier Bardem) and his deadly ghost sailors that have escaped from the Devil's Triangle.
Johnny Depp: 'I Was Really, Really Blown Away'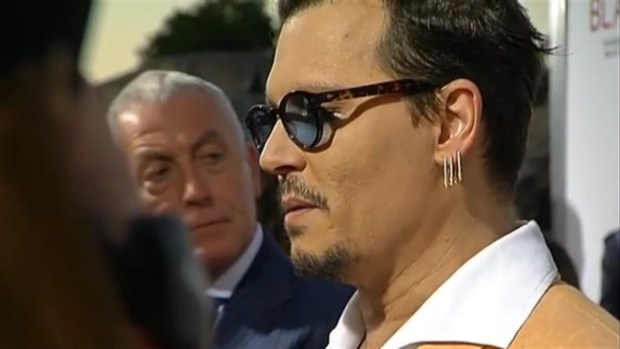 His only hope of survival lies in the legendary Trident of Poseidon, but to find it, he must team up with scientist Carina Smyth (Kaya Scodelario) and Henry (Brenton Thwaites).
"Dead Men Tell No Tales" hits theaters everywhere on May 29, 2017.
Home in 'Keeping Up With The Kardashians,' 'True Blood' for Sale
© Copyright E! Online