Joe Biden said before the election he'd accept Donald Trump's victory and reach out to the president-elect, but nearly a week after the election, the vice president hasn't said much about Trump's win. So the internet is doing it for him, instead.
A series of memes speculating what Biden and President Obama talk about as they prepare to hand over to the Trump administration have been making rounds on social media since Nov. 8.
Biden: What if we paint the Mexican flag in the office
Obama: Joe, no
Biden: I already ordered the paint
Obama: Joe pic.twitter.com/mCCh6OPQRk

— dan // pinned if unf (@tragecies) November 11, 2016
biden: cmon you gotta print a fake birth certificate, put it in an envelope labeled "SECRET" and leave it in the oval office desk
obama: joe pic.twitter.com/UTtv1JkE5o

— jomny sun (@jonnysun) November 11, 2016
Obama: "Joe, why are you still holding my hand?"
Biden: "I wanna freak Mike Pence out"
Obama: "But why?"
Biden: "Just roll with it" pic.twitter.com/o5KZZ0Ysgz

— thomas moore (@Thomas_A_Moore) November 12, 2016
Biden: Oh boy, his car is here, quick let's all hide
Obama: Joe pls pic.twitter.com/w0pqxcaS9A

— Mollie Goodfellow (@hansmollman) November 10, 2016
Biden: I painted "Michelle Obama 2020" on your bedroom ceiling

Obama: 😳

Biden: Glow in the dark paint pic.twitter.com/s07i5g4gRT

— Crutnacker (@Crutnacker) November 13, 2016
Biden: These memes are just an illusory escape from the public's feelings of utter powerlessness and uncertainty right now

Obama: Joe... pic.twitter.com/ozIoctMfpg

— lord crunkington III (@postcrunk) November 14, 2016
Most of the memes show Biden setting up pranks for Trump and Obama trying to dissuade him. In one, Biden says he painted "Michelle Obama 2020" on a bedroom ceiling using glow in the dark paint and in another, he says he will not give up the wifi password. Biden and Obama have developed a close relationship over the course of eight years — their "bromance" often on display at joint White House events and during their travels.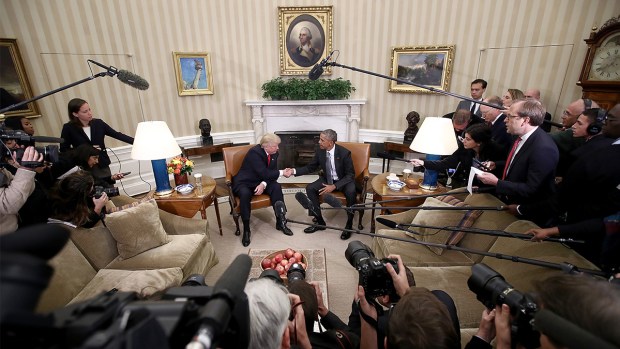 Top Images From an Emotional Presidential Election 2016
While on the campaign trail, Biden slammed Trump for his lewd comments about women and said he would take the Republican "behind the gym" if the two were still in high school. Trump responded at the time that "I'd love that." He went on to call Biden "Mr. Tough Guy."
After meeting with Vice President-elect Mike Pence last week, Biden tweeted, "I just met with @VP-elect Pence at the @WhiteHouse to offer our support for a smooth, seamless transition of power," but he never mentioned Trump in his post-election messages.
At least one meme shared since the Election Day has struck a more somber note, reflecting the mood of many Hillary Clinton supporters: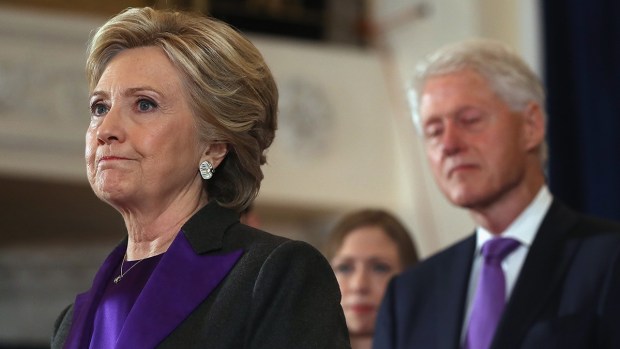 What Hillary Clinton's Decision to Wear Purple Means
"Joe: These memes are just an illusory escape from the public's feelings of utter powerlessness and uncertainty right now.
Obama: Joe..."