The first round of votes are in, April the giraffe fans.
Animal Adventure Park, the upstate zoo that made national headlines and livestreamed the giraffe's pregnancy for millions of people around the globe, released the top choices after the first round of voting for names for her calf.
The first-round voting contest was being held for 10 days.
Those choices were released Tuesday evening.
The 10 choices include: "Alyssa's Choice," Apollo, Geoffrey, Gio, Harpur, Noah, Ollie, Patch, Patches and Unity.
Now it's time for the second round of voting that will be held for five days.
You can vote for your favorite name.
Animal Adventure Park is offering the public a chance to give him one at nameaprilscalf.com, where anyone who wants to vote on a name can do so for $1 per vote. There is a five-vote minimum, and people can vote as many times as they want.
"Now we move to round two," the zoo said Tuesday evening on Facebook.
The zoo on Facebook said it will select the winner on April 30 at 6 p.m.
Funds raised will be split between the Giraffe Conservation Foundation, Ava's Little Heroes and Animal Adventure Park.
After months of waiting, April gave birth in Harpursville, New York, while an audience of about 1.2 million people watched live online.
The calf's spindly legs wobbled as he attempted to stand on its own. But shortly before noon, the zoo shared an adorable photo of April nuzzling him while he stood beneath her trying to nurse.
"All is well," the caption read.
April teased her millions of global adorers for weeks, showing signs of near-but-not-quite labor and otherwise enchanting her audience with cute right-at-the-camera gazes and tongue flicks, snack noshing and nuzzling with her much younger but handsome 5-year-old beau.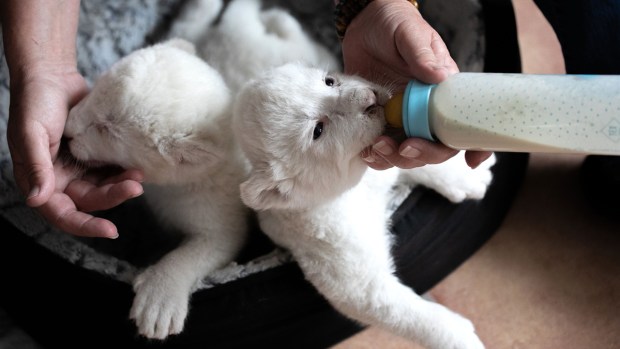 Adorable Zoo Babies: Meet White Lion Cubs Nala and Simba
April's pregnancy was catapulted into global headlines in late February after YouTube briefly yanked the zoo's live stream following complaints by animal activists that it violated the site's policies concerning "nudity and sexual content." Thousands upon thousands of commenters voiced their frustration on Facebook and YouTube, and the stream was restored within an hour or so.
Patch said the natural curiosity surrounding giraffes and their birthing process was a huge factor in drawing crowds.
"I think the fact that she's a giraffe and she's a neat species that people are interested in, that's fostered a lot of the attention," he said. "The fact that you'll get to witness the miracle of birth from an animal that you really don't get to see give birth — that's neat."
He added that April's pregnancy was more than just live entertainment, but a teachable moment and source for education.