Yaima Crespo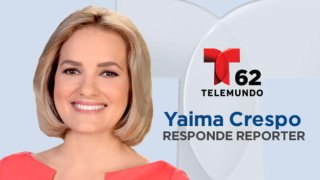 Yaima Crespo is an investigative reporter for Telemundo62 Responde. You can watch Yaima's reports Mondays and Wednesdays on Telemundo62. She also hosts Enfoque, Telemundo62's weekly public affairs show airing Sundays at 8am and 6pm.
Yaima joined Telemundo62 in 2018 as a bilingual news reporter. In July of 2019, she joined the investigative team as a consumer reporter for Telemundo62's Responde and NBC10's Responds.
"I'm passionate about helping people in our community and I try to do that every day through the stories I cover," Yaima said. "From helping viewers avoid scams to helping them get money back when they've been wronged, I'm happy when I can make a difference in someone's life."
One of Yaima's most memorable reporting experiences was highlighting the impact of Hurricane Maria on Pennsylvania.
"When Puerto Ricans fled the island after Hurricane Maria, many found their way to Pennsylvania," she said. "I am honored to have shared their stories and connect them with resources in our area."
Yaima began her career in production and transitioned to on-camera work at Univision. She joined Telemundo 47 New York in 2008 as a general Assignment Reporter and served as a weekend news anchor. In 2015, she became the station's co-anchor for the 5 p.m., 6 p.m., and 11 p.m. newscasts.
Yaima earned a bachelor's degree in communications from Florida International University. She has received four New York Emmy Awards and is active with the National Association of Hispanic Journalists (NAHJ).
Born in Cuba, Yaima migrated to the United States at the age of 10. Her family settled in Miami. Her unique bicultural upbringing is an important part of her life and has helped her connect with the communities she serves.
When Yaima is not on the news, she enjoys kayaking, refurbishing old furniture and playing with her dog, Zoey.
Connect with Yaima!
Twitter: @YaimaCrespoT62
Facebook: @YaimaCrespoT62
Instagram: @YaimaCrespoT62