Violeta Yas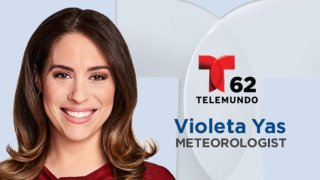 Violeta is a bilingual meteorologist for Telemundo62 and NBC10, and chief meteorologist for Telemundo62. You can watch Violeta's live forecasts every weekday at 5, 6 and 11 p.m. on Telemundo62.
Born in Mar del Plata, Argentina and raised in North Jersey, Violeta joined the Telemundo62 team in January of 2014. Previously, she attended Rutgers University, New Brunswick, where she received a bachelor's degree in Journalism & Media Studies, with a minor in Spanish. She later earned her Certificate of Broadcast Meteorology with Mississippi State University.
Violeta's weather career began in 2010, when she joined AccuWeather as a bilingual broadcaster. Violeta has appeared on Fox News, Fox Business, ABC World News Now, The Big Ten Network, Fox Sports, several Telemundo and Univision affiliates, ZBM-TV (Bermuda), and various other Spanish networks across Latin America. The opportunity to forecast weather  for a wide range of viewers, countries, climates and topographies on a daily basis-- in two different languages-- really sparked and inspired her to hone her interest in language and weather and how they are interpreted globally.   
In 2014, she moved to Philadelphia to launch Noticiero Telemundo62 at 5 p.m. and 11 p.m., and is now Philadelphia's only Spanish-speaking local TV meteorologist. She has been nominated for four regional Emmys as 'Best Weather Anchor' and has also won four Emmy awards.
In 2018, Violeta was selected as one of PhillyMan Magazine's Women of the Year for her philanthropic efforts. An active member of the community, Violeta is a lead broadcast ambassador for the American Meteorological Society's Committee for Hispanic and Latinx Advancement. Through this role, she leads a team of broadcast meteorologists from across the country in identifying, planning, and generating tangible weather resources for the Spanish-speaking community.
Violeta is also very passionate and involved in mentorship on a personal level, and also in connection with her alma mater. Violeta is a Media Mentor at Rutgers University, through the Institute for Women's Leadership. She regularly lends her time to Rutgers Future Scholars—a program that identifies and gives academically promising low-income high school students the opportunity for a college education. She is also a strong advocate of The Boys & Girls Club, having attended their programs throughout her childhood in Garfield, N.J.
In 2019, Violeta partnered with friend and colleague—NBC10 meteorologist Brittney Shipp—to translate Shipp's children's book, The Meteorologist in Me.
"When Brittney asked me to partner in working on a Spanish language version of her book, I could not say yes fast enough. Not only did it allow me to encourage and connect with more children, but even more specifically, it gave me the change to further connect our young, Spanish-Speaking minds with the idea of following their dreams."
When the weather is not threatening, Violeta can usually be found at the beach, spending time with her family, watching sports & scary movies, or drinking too much coffee.   
Connect with Violeta!
Twitter: @YasT62
Facebook: @VioletaYasT62
Instagram: @violetayas