Steven Fisher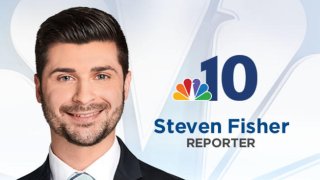 Steven Fisher is a Lehigh Valley reporter for NBC10. You can watch his live reports weekdays on NBC10.
Steven joined NBC10 in July 2017. A native of the Philadelphia area, Steven is excited to work in the place where he was born and raised.
His favorite part of being a journalist is having the opportunity to share stories that have an impact on the community.
"I enjoy being out in the field and meeting new people every day. I am looking forward to sharing stories of the people of Philadelphia and the surrounding Delaware Valley."
One of Steven's most memorable stories as a journalist includes his coverage of the 2016 Stanley Cup Finals in both Pittsburgh and San Jose.
Born and raised in Montgomery County, Steven comes to NBC10 from WPXI in Pittsburgh where he worked as a reporter. Prior to that, he worked as a general assignment reporter at WHTM in Harrisburg, Pennsylvania, and WBOC in Salisbury, Maryland. He began his career at KYW-TV in Philadelphia.
Steven earned his bachelor's degree in Communication Studies from West Chester University.
Steven is a two-time regional Emmy award winner, receiving honors for Best Video Journalist and Best Feature Story for a report about a man with autism who created a comic book about an autistic superhero. Steven has also been recognized with awards from the Associated Press and Pennsylvania Association of Broadcasters.
When he is not on the news, Steven enjoys rooting for all Philly sports teams, playing guitar, traveling, and spending time with his family, friends, and dog Simba.
Connect with Steven!
Twitter: @Steven_Fisher10
Facebook: @StevenFisherNBC10