Steve Sosna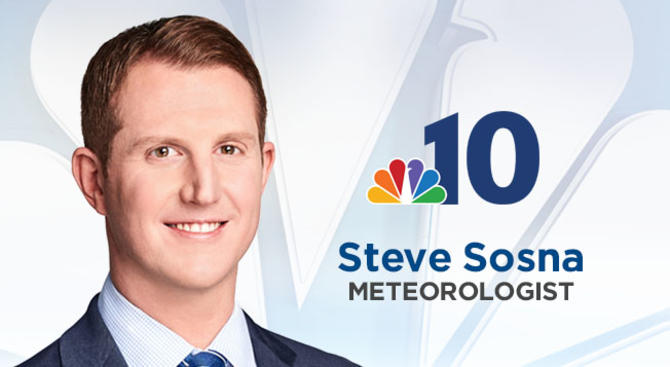 Steve Sosna is a meteorologist for NBC10 First Alert Weather team. You can watch Steve's forecasts weekend evenings on NBC10. Steve is a member of the American Meteorological Society (AMS) and has earned the AMS Certified Broadcast Meteorologist (CBM) seal of approval.
Steve joined NBC10 in September 2017. He loves being a meteorologist because of the variety of the job. From being live on air, on social media, and out in the field, to working with partners like Emergency Management and the National Weather Service, Steve is passionate about all the components that go into bringing the most accurate forecast to viewers. He's had a passion for weather since he was four year old.
Steve was born in Sellersville and raised in Lansdale, where he attended Lansdale Catholic High School. He graduated from Kean University in Union, New Jersey, where he earned a bachelor's degree in Earth Science with a concentration in meteorology. Prior to joining NBC10, Steve was at NBC 4 in New York where he was senior weather producer and fill-in on-air meteorologist for MSNBC. He is also one of the first meteorologists to use NBCUniversal Owned Stations' state-of-the-art, mobile Doppler radar StormRanger. Prior to joining NBC 4 New York, Steve worked at KAAL-TV in Rochester, Minnesota, and freelanced at KSTP-TV in Minneapolis-St. Paul, Minnesota. He started his career at NBC 4 New York recording local weather updates for NBC Weather Plus and was a freelance meteorologist for News 12 Connecticut and News 12 Weather and Traffic.
Steve is a two-time NBC "Gem" winner for collaborating and developing new weather technology for NBC10. He assisted the team executing this technology across on-air, digital, and social platforms.
An active member of the community, Steve enjoys helping disadvantaged kids in urban communities. He loves going to schools and sharing his knowledge and enthusiasm with the next generation. Steve also is involved with helping LGBTQ youth and does school talks across the area.
Steve enjoys practicing good health and nutrition. He is a runner and a triathlete and competes in local competitions during the spring, summer, and fall. He also loves to hike, travel, and spend many days down at the Jersey Shore. 
Connect with Steve!
Twitter: @SteveSosnaNBC
Facebook: @SteveSosnaNBC
Instagram: @SteveSosna4NY