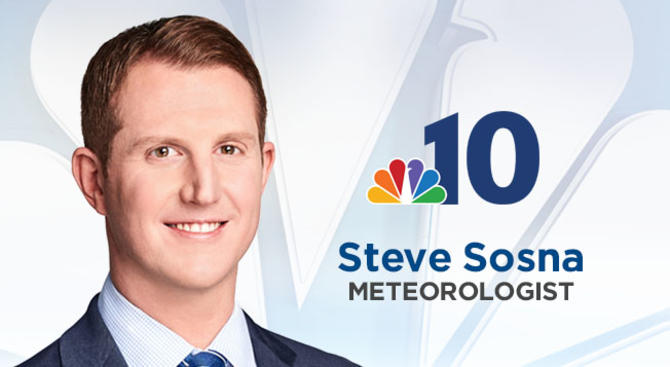 Steve Sosna is a meteorologist for NBC10's First Alert Weather team. You can watch his live forecasts weekend evenings.
Steve joined NBC10 in September 2017. He loves being a meteorologist because of the variety of the job. From being live on air, on social media, and out in the field, to working with partners like Emergency Management and the National Weather Service, Steve is passionate about all of the components that go into bringing the most accurate forecast to viewers.
The most memorable weather event that Steve has covered was Superstorm Sandy. His team saw the historic event coming eight days out and every word that he said on air mattered to people at home. His team made the risky decision to ask people in NYC's Zone 'A' to evacuate, even prior to the Mayor's office based on the information they were seeing. "That's when we are of value to our audience," he said. "When they're not getting that information elsewhere, it's when they're coming to us and trust us."
A native of the Philadelphia area, Steve is most excited to return to the place that he calls home.
"Philadelphia is a city of tradition, and I grew up in those traditions," he said. "Whether it's watching the Eagles game on a Sunday afternoon with my Dad, heading down to the south Jersey beaches with my friends, or walking my rescue dog Joey in the park with my mom in Bucks County—Philly is home."
Steve was born in Sellersville and raised in Lansdale, where he attended Lansdale Catholic High School. Steve graduated from Kean University in Union, NJ, where he earned a bachelor's degree in Earth Science with a concentration in atmospheric science. Prior to joining NBC10, Steve was at NBC 4 in New York where he was Senior Weather Producer and fill-in on-air meteorologist for MSNBC.
He is also one of the first meteorologists to use NBCUniversal Owned Stations' state-of-the-art mobile Doppler radar StormRanger to track Tropical Storm Hermine.
Prior to joining NBC 4 New York, Steve worked at KAAL-TV in Rochester, Minnesota where he was a weekday morning meteorologist and on occasion appeared on KSTP-TV in Minneapolis-St. Paul, Minnesota. He started his career at NBC 4 New York recording local weather updates for NBC Weather Plus and was a freelance meteorologist for News 12 Connecticut and News 12 Weather and Traffic. He is a member of the American Meteorology Society and National Weather Association.
He has received much praise for his work in meteorology. In 2012, he rang the closing bell of the New York Stock Exchange for outstanding weather coverage before during and after Superstorm Sandy. He presented at NBC's innovation summit, "Collaboration First," for executing outstanding collaboration of high impact information internally and externally during Superstorm Sandy.
Steve was responsible for launching the first fixed, high frequency, S-Band radar in the New York City television market, StormTracker 4. He also launched the first mobile, X-band radar for a television station: StormRanger4.
An active member of the community, Steve enjoys helping disadvantaged kids in urban communities. He loves going to schools and sharing his knowledge and enthusiasm with the next generation. Steve also is involved with helping LGBTQ youth.
When Steve is not on the news, he enjoys working out, hiking, and spending time with his dog Joey.
Connect with Steve!
Twitter: @SteveSosnaNBC
Facebook: @SteveSosnaNBC
Instagram: @SteveSosna4NY