Steve Sosna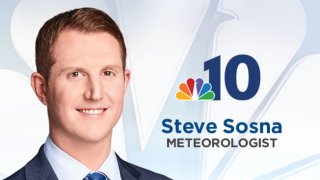 Steve Sosna is a meteorologist for NBC10 First Alert Weather team. You can watch Steve's forecasts weekend evenings on NBC10 and listen to his forecasts on KYW Newsradio. Steve is an active member of the American Meteorological Society (AMS) and has earned the prestigious AMS Certified Broadcast Meteorologist (CBM) seal of approval. Steve is also the recipient of a National Emmy for his award-winning work with StormRanger, NBCUniversal's state-of-the-art, mobile, dual pol X-band Doppler Radar.
During his time at NBC10, Steve has earned two NBC "GEM" (Going the Extra Mile) awards for collaborating and developing new weather technology for the station. He assisted the team executing this technology across on-air, digital, and social platforms. Steve came to NBC10 in 2017 from WNBC-TV in New York City. He served as an executive weather producer since 2011 for the network's flagship station. He also routinely filled-in on-air at MSNBC during severe weather, and on shows such as "Early Today", "Andrea Mitchell Reports", "Meet the Press Daily", "MSNBC LIVE", "AM Joy", and "The Last Word with Lawrence O'Donnell". During the devastating 2017 hurricane season, Steve covered major hurricanes "Harvey" and "Irma" for over 12 consecutive hours on-air.
Steve was born in Sellersville and raised in Lansdale, where he attended Lansdale Catholic High School. He graduated from Kean University in Union, New Jersey, where he earned a bachelor's degree in Earth Science with a concentration in meteorology.
Steve enjoys practicing good health and nutrition. He is a runner and a triathlete and competes in local competitions during the spring, summer, and fall. He also loves to hike, travel, and spend many days down at the Jersey Shore
An active member of the community, Steve enjoys helping disadvantaged kids in urban communities. He loves going to schools and sharing his knowledge and enthusiasm with the next generation. Steve also is involved with helping LGBTQ youth and does school talks across the area.
Connect with Steve!
Twitter: @SteveSosnaNBC
Facebook: @SteveSosnaNBC
Instagram: @SteveSosnaNBC