Krystal Klei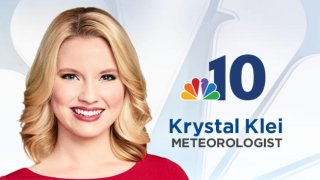 Krystal Klei is a meteorologist for NBC10's First Alert Weather team. You can watch Krystal's live forecasts during our weekend morning newscasts. During the week, you can catch her on different shows throughout the day.
She joined NBC10 in July of 2016. Krystal is passionate about forecasting and reporting on active weather conditions for our viewers throughout the Delaware Valley. From bitter cold to dangerous severe weather and sweltering heat, Krystal works each day to prepare viewers for the day ahead of them - and keep them safe!
When Krystal isn't in the studio, you can catch her reporting on big weather events across the region or working behind-the-scenes to keep the team's weather technology running at its best. Krystal also acts as one of the graphics producers for the NBC10 First Alert Weather Team.
Krystal attended Arizona State University, where she received a Bachelor of Science in Geography-Meteorology/Climatology, as well as a Bachelor of Arts in Broadcast Journalism. Prior to working at NBC10, she was a meteorologist at KVIA in El Paso, Texas, where she won two Texas AP Broadcaster Awards.
Krystal loves being involved with local STEM education efforts and animal rescue initiatives. She tries to visit local schools and teach meteorology whenever possible. As an animal lover, she acts as the Clear the Shelters host on NBC10. While at KVIA, Krystal was a Humane Society Telethon anchor and adopted her dog, Freckles; live on-air to explain the process.
Krystal lives in Philadelphia with her husband, Josh. The two got engaged right in Center City in 2019 and were married in her hometown of Phoenix, Arizona, in Spring of 2021. She's fallen in love with the City of Brotherly Love: From walking her dog along the Schuylkill River to strolling through Old City to taking tourist friends to her favorite restaurants in town (Jim's for a Cheesesteak). In fact, Krystal considers herself a bit of a foodie! She's always looking for new restaurants to try out, so send her a tweet if you have a great suggestion.
Connect with Krystal!
Twitter: @KrystalKlei
Facebook: @krystalklei

Instagram: @krystalklei.weather