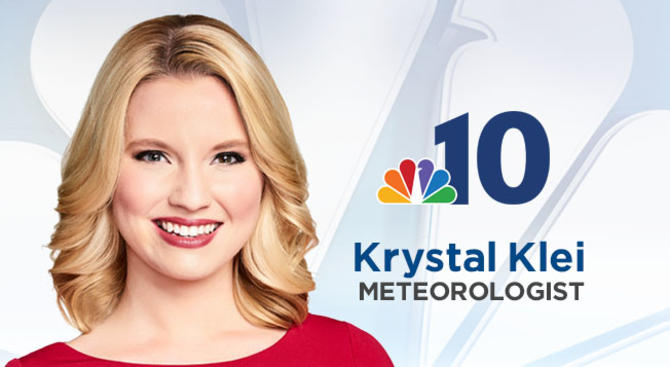 Krystal Klei is a meteorologist for NBC10's First Alert Weather team. You can watch Krystal's live forecasts during our weekend morning newscasts.
She joined NBC10 in July of 2016. Krystal is excited to report and forecast active weather conditions for our viewers throughout the Greater Philadelphia area. "Hot and humid summers, bitterly cold winters, severe storms, flooding and blizzards we experience it all," said Krystal.
From forecasting inside the studio or reporting from the field, Krystal is extremely passionate about weather.
Krystal attended Arizona State University, where she received a Bachelor's of Science in Geography, Meteorology/Climatology, as well as a Bachelors of Arts in Broadcast Journalism. Prior to working at NBC10, she was a meteorologist at KVIA in El Paso TX, where she won two Texas AP Broadcaster Awards.
Krystal loves being involved with local STEM education efforts and animal rescue initiatives. While at KVIA, Krystal was a Humane Society Telethon anchor and adopted her dog, Freckles; live on-air to explain the process.
She likes live music, considers herself a "foodie," and enjoys exploring the Greater Philadelphia area.
Connect with Krystal!
Twitter: @KrystalKlei
Facebook: @krystalklei

Instagram: @krystalklei.weather