Iris Delgado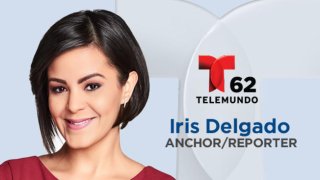 Iris Delgado is an anchor/reporter for Telemundo62. You can watch Iris' live newscasts weekdays at 12 p.m., 5 p.m. and 6 p.m. She also hosts Al Momento, a digital newscast streamed on the Telemundo62 apps on Roku and Apple TV.
Iris enjoys being able to connect with viewers from behind the anchor desk as well as out in the field. She is devoted to delivering the news in a way this is relevant to viewers and explaining how it can impact their daily lives. Iris loves visiting the different neighborhoods in Philadelphia and surrounding area, and being able to connect with its residents.
"I love running into the children playing outside and answering their millions of questions about my career as a news reporter," said Iris. "I never leave without reminding them that anything they want to do in life is possible through hard work and determination, regardless of what their current circumstances may be. These experiences as a news reporter give me a better understanding of who makes up our community and greater sensitivity when anchoring the news."
One of the most memorable moments Iris has had while reporting was when she was covering a story for two days about a sinkhole on Ella Street in Philadelphia. The sinkhole, which was in the middle of the street, was impeding children from playing and prevented vehicles from parking for months. Iris was dedicated to helping the neighborhood find a solution. Ultimately, city officials addressed the problem and everyone gained back their road. One woman was so grateful for her work that she brought out a homemade 'café con leche' for Iris. Seeing the people's gratitude that day was unforgettable for her.
Iris graduated from the University of Florida with a Bachelor's Degree in Telecommunication-News and a minor in Latin American Studies. She won an Emmy® Award for her exclusive interview with the sole survivor of a massacre inside an Orlando beauty salon.
An active member of the community, Iris is passionate about children and youth having access to quality education and anti-bullying. The wife of an army veteran, Iris identifies with military families and wounded warriors.
When Iris is not reporting the news, she enjoys dancing, playing volleyball, and being by the ocean. She is a strong believer in God and the mother of a beautiful 4 year old named Ilia Rose.
Connect with Iris!
Twitter: @DelgadoT62
Facebook: @DelgadoT62
Instagram: @DelgadoT62