Brandon Hudson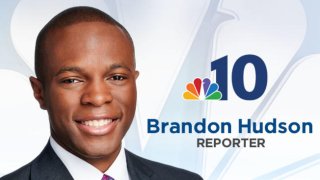 Brandon Hudson is a night side reporter for NBC10 news. You can watch his live reports during the 11 p.m. newscasts.
Brandon's favorite part about being a reporter is sharing people's lives by telling stories. He loves being able to give viewers a chance to make a difference in the community by informing them of what's happening and how they can help.
One of Brandon's most memorable stories that he has covered was the 2016 Villanova Men's basketball championship game, only a couple of weeks after he started working at NBC10.
"It was awesome being on campus and watching them go wild after the buzzer beater to win; then seeing the celebration," said Brandon.
Brandon graduated from Florida State University. He worked as a reporter at WDHN in Dothan, Alabama, and WFFF in Burlington, Virginia. He then went on to work in Pittsburgh as a reporter and fill-in sports anchor.
When he is not reporting, Brandon enjoys playing sports, breakdancing, watching Florida State football games and being a music DJ.
Connect with Brandon!
Twitter: @BHudTV
Facebook: BrandonHudson
Instagram: @bhudtv