Alondra Anaya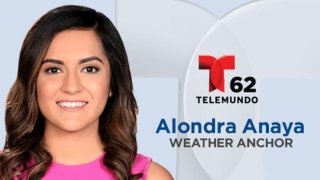 Alondra Anaya is an Emmy award-winning weather anchor for Telemundo62. You can watch her live forecasts weekdays at 12 p.m. and 5 p.m. on Telemundo62.
Alondra has been passionate about weather conditions since a young age and she now enjoys sharing her passion with the tri-state area..
"I've always loved the sky, the rain, thunder, lightning…all of it," said Alondra. "Now I get to be in a place where the weather conditions rapidly change, and it's my job to alert people so they can prepare and be safe each day. I love it!"
Prior to joining Telemundo62, Alondra was a weather anchor/reporter, and fill-in anchor/reporter at KNVN-TV and KHSL-TV in Chico-Redding, California. She graduated from California State University with a bachelor's degree in Communication Design/Media Arts and a minor in Broadcasting. Currently she is attending Mississippi State University to receive her certificate in Broadcast and Operations Meteorology.
A first generation Mexican-American, Alondra was raised in Fontana, California. When she is not reporting the weather, Alondra enjoys studying for school, playing soccer and spending time with her community.
Connect with Alondra!
Facebook: @AlondraAnayaTV
Instagram: @alondraanayaTV
Twitter: @AnayaT62