Police in a South Jersey community alerted residents Wednesday morning after a large snake got away from them.
Paulsboro Police were sent to the 200 block of E Jefferson Street Tuesday night for the "report of a large snake under a porch," the department posted on Facebook.
By the time animal control showed up the snake – it appeared to be about a 60-pound boa constrictor measuring around 10 to 12 feet long – had escaped into a hole in the ground but not before a photo was snapped of the large reptile, said police.
Boas aren't venomous but they can cause harm to people and pets by cutting off the blood supply, according to National Geographic. Owner Gets Escaped Boa Constrictor Back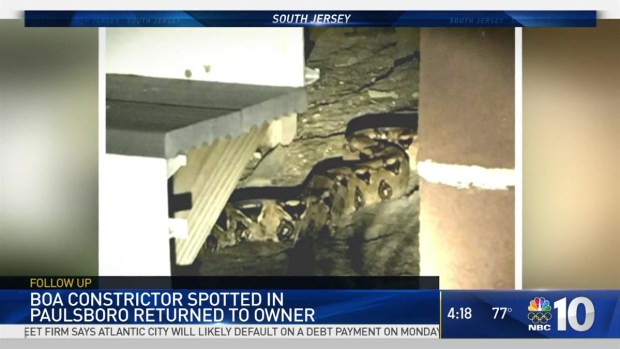 A 60-ppund boa constrictor was found and returned to its owner after a woman found it slithering under her steps in Paulsboro, New Jersey. (Published Thursday, July 28, 2016)
Paulsboro Police reported Wednesday night the snake was caught and returned to its owner.
Published at 11:02 AM EDT on Jul 27, 2016 | Updated at 6:11 AM EDT on Jul 28, 2016