The former district attorney who declined a decade ago to bring sex-crime charges against Bill Cosby testified Tuesday that he believes his decision shields the comedian from ever being prosecuted in the case.
Judge Takes Recess After First Day in Cosby Hearing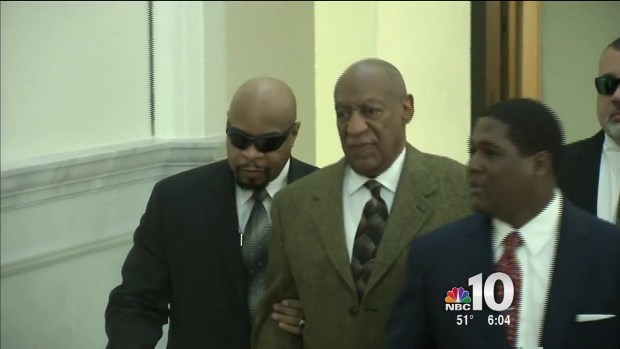 Bruce Castor was put in the hot seat on Tuesday, and the judge had many questions about why he did not charge Cosby in the past when allegations were brought against him. NBC10's Harry Hairston reports with more on what happened in the courtroom before the judge recessed for the day. (Published Tuesday, Feb. 2, 2016)
Former Montgomery County District Attorney Bruce Castor took the stand at a pretrial hearing in a bid by Cosby's lawyers to get the case against the TV star thrown out because of what they say is a non-prosecution agreement with Castor.
Former DA Explains Why He Did Not Charge Bill Cosby in the Past
Bruce Castor testified Tuesday and answered questions about why he did not charge Bill Cosby in 2005 when allegations were brought up against him. NBC10's Deanna Durante reports with more on Castor's decision and his time in the courtroom Tuesday. (Published Tuesday, Feb. 2, 2016)
The current district attorney has said there is no record of any such agreement.
Castor admitted the only place the matter was put in writing was in the 2005 press release announcing his decision not to prosecute.
Under questioning, he acknowledged that he didn't draw up a formal immunity agreement filed with a judge because, he said, Cosby was worried that would make him look bad. Also, Castor said, "It was unnecessary because I concluded there was no way the case would get any better."
Bill Cosby Leaves First Day of Hearing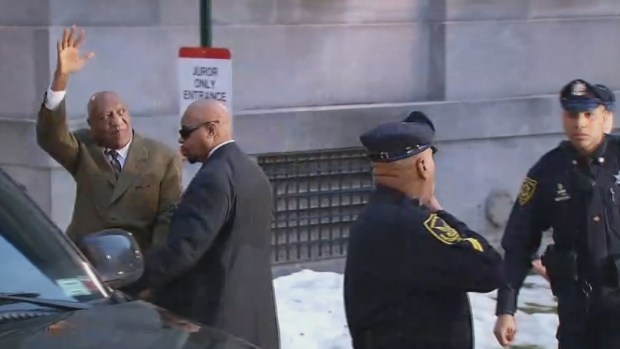 Skyforce10 was there to see Bill Cosby leave the courtroom during the first day of a hearing that will determine whether a sex assault case against him should continue. Legal Analyst Enrique Latoison gives his perspective on Tuesday's testimony and how the trial is going. (Published Tuesday, Feb. 2, 2016)
The proceedings will resume on Wednesday, when Common Pleas Judge Steven T. O'Neill said he hopes to rule on whether to throw out the case.
Former DA Takes the Stand in Bill Cosby Trial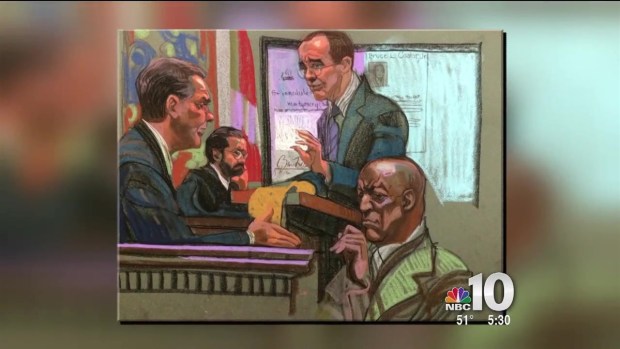 As Bill Cosby's attorney continues to try to get his case thrown out, former Montgomery County District Attorney Bruce Castor was brought on stand Tuesday to testify. NBC10's Rosemary Connors reports with more on Bruce Castor's testimony in court. (Published Tuesday, Feb. 2, 2016)
Cosby, clad in a tan suit and walking with a wooden cane, declined to comment outside the courthouse Tuesday, but nodded at NBC10's Matt DeLucia when asked how he was doing. He later waved to the crowd as he left the courthouse shortly after 5:30 p.m., entered an SUV and headed home.
Breaking: Bill Cosby leaves court watch live @NBCPhiladelphia#Cosby#MontcoPapic.twitter.com/cklo8mWKpE

— Randy Gyllenhaal (@RandyGyllenhaal) February 2, 2016
As Cosby left the courthouse, one of his supporters was detained by police. Officials told NBC10 the man was blocking traffic.
Some guy just got detained after Cosby left court. pic.twitter.com/PxS6XlpVRo

— Randy Gyllenhaal (@RandyGyllenhaal) February 2, 2016
Cosby, 78, was arrested and charged in December with drugging and violating former Temple University athletic department employee Andrea Constand at his suburban Philadelphia mansion in 2004. He could get up to 10 years in prison if convicted.
Castor said Tuesday that he believed Constand's story but that proving it would have been problematic because of serious flaws in the case, and so he declined to bring charges.
He said that he made the decision as a representative of the state and that it was intended to last in perpetuity.
"For all time, yes," Castor said when pressed.
And he suggested that Cosby and his lawyer at the time had the same understanding, because Cosby later agreed to testify without invoking his Fifth Amendment right against self-incrimination in a lawsuit brought against him by Constand.
"Cosby would've had to have been nuts to say those things if there was any chance he could've been prosecuted," Castor said, referring to the damaging testimony unsealed last summer.
Castor said he hoped — correctly, it turned out — that the decision not to prosecute would prod Cosby to testify in the lawsuit and help Constand win damages. She eventually settled for an undisclosed amount.
"I thought making Mr. Cosby pay money was the best I was going to be able to set the stage for," the former DA said. He added: "I was hopeful that I had made Ms. Constand a millionaire."
He said he and Cosby's then-attorney, Walter Phillips, did not have an actual agreement that Cosby would testify in exchange for not being prosecuted. Phillips has since died.
According to Castor, statements Constand gave to police in Cheltenham Township, Pennsylvania, and authorities in Canada about the alleged assault had "a number of inconsistencies" that were serious enough to hurt her credibility at trial, NBC News reported.
Cosby Arrives at Montco Courthouse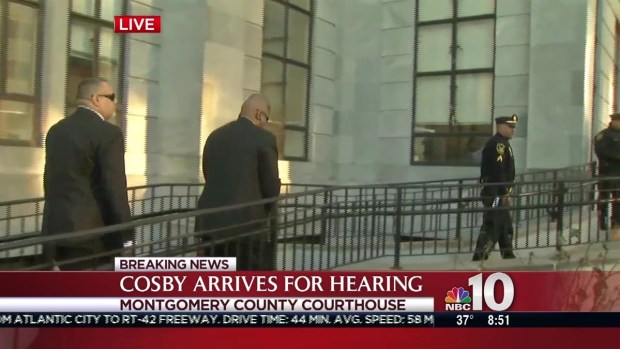 Bill Cosby walked with a cane as he arrived at court in Norristown Tuesday morning for a hearing. His lawyers will argue that the sex-assault charges against him should be dismissed. NBC10's Drew Smith reports live from outside court. (Published Tuesday, Feb. 2, 2016)
Kevin Steele, the newly elected DA who is pursuing the case, has said Cosby would need an immunity agreement in writing to get the case thrown out. He has said he has no evidence one exists.
Prosecutors on Tuesday pressed Castor on numerous, seemingly inconsistent statements he made over the years on whether Cosby could still face charges. Castor sparred with prosecutors, parsing the language in his press release and in various emails sent to his successor.
He said he was referring in some passages to bringing charges against Cosby in connection with other women and other crimes — but not in connection with the Constand encounter.
While Castor was called as witness by Cosby's side, the former DA said he is rooting for the prosecution.
"I'm not on your team here," Castor told Cosby lawyer Brian McMonagle. "I want them to win."
Cosby watched the back and forth between Castor and the lawyers from the defense table, swiveling his head slightly as if at a tennis match. He stifled a cough with a fist and showed no reaction even as the courtroom erupted periodically in laughter over a quip from the talkative Castor or one of the lawyers.
In a barrage of allegations that have destroyed Cosby's image as America's Dad, dozens of women have accused the former TV star of drugging and sexually assaulting them since the 1960s. But this is the only case in which he has been charged.
WATCH: Bill Cosby Arrives for Court Hearing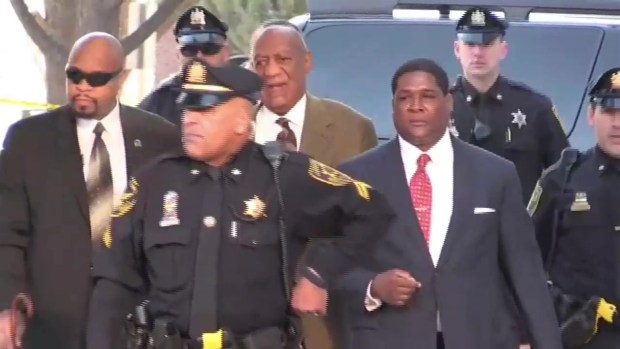 Comedian Bill Cosby arrives at the Montgomery County Courthouse in Norristown Tuesday morning as his lawyers fight to get sex assault case dismissed. (Published Tuesday, Feb. 2, 2016)
The unsealing of the testimony from Constand's lawsuit prompted Castor's successors to reopen the case and ultimately charge Cosby.
Cosby admitted in the deposition that he had affairs with young models and actresses, that he obtained quaaludes to give to women he wanted to have sex with and that he gave Constand three pills at his home. He said he reached into her pants but insisted it was consensual.
Castor defended his decision not to bring charges, testifying that he saw Constand's year-long delay in reporting the allegations, inconsistencies in her statements and her contact with a lawyer before going to police as problematic.
Castor said Constand's delay thwarted his ability to test her hair or fingernails for evidence she was drugged.
Anne Poulin, a law professor at Villanova University, said the defense has a high bar to meet to get the case thrown out early on. But "if they can win without this ever going to trial, then they've done their client a big service."
Critical Hearing in Bill Cosby Case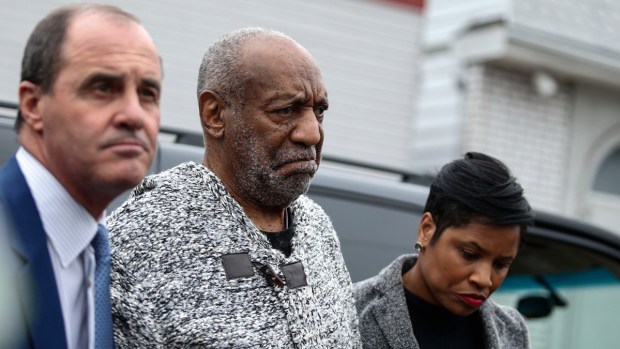 Comic legend Bill Cosby will be in a Pennsylvania courtroom Tuesday morning hoping to get his case dismissed. (Published Tuesday, Feb. 2, 2016)
In related news, a Los Angeles judge ordered Cosby to attend another deposition in a lawsuit filed by a woman who says the comic forced her to perform a sex act on him at the Playboy Mansion around 1974, when she was 15.
Legal Analyst Talks Cosby Allegations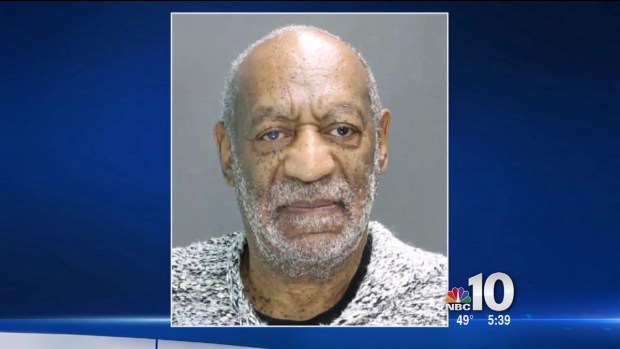 Bill Cosby's legal team claims an alleged deal had been made with prosecutors back in 2005, but nothing is in writing. NBC10 legal expert Enrique Latoison gives his legal opinion on the issue and Cosby's allegations. (Published Monday, Feb. 1, 2016)
Also Tuesday, model Chloe Goins dropped a lawsuit accusing Cosby of drugging and sexually assaulting her at the Playboy Mansion in 2008. Goins gave no explanation.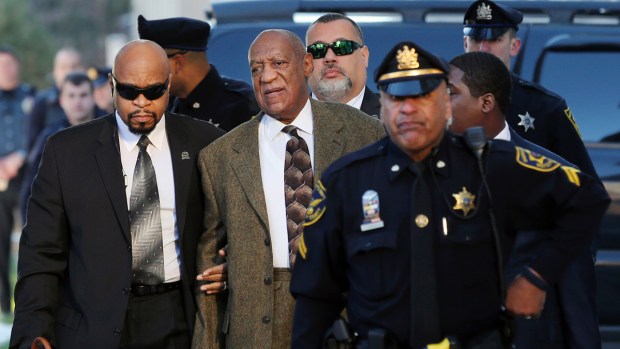 Bill Cosby Through the Years
The Associated Press and NBC10 generally do not identify people who say they have been sexually assaulted unless they agree to have their names published, as Constand has done.
NBC News' Tom Winter contributed to this report.
Published at 4:44 AM EST on Feb 2, 2016 | Updated at 12:09 AM EST on Feb 3, 2016