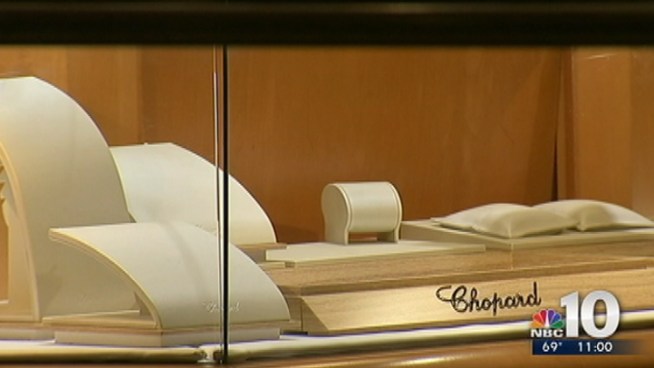 NBC10Philadelphia.com- Rosemary Connors
Masked men hit the Jay Roberts Jewelry store in Marlton, NJ and make off with quite a haul - $150-thousand dollars worth of high end watches. This is not the first time this store has been hit. NBC10's Rosemary Connors explains.
Police are searching for two robbers who they say targeted a local jewelry store.
It happened shortly before 8 p.m. at Jay Roberts Jewelers in Marlton, NJ. Police say the suspects walked through the front door, smashed a case with a hammer and stole $150,000 worth of watches.
Employees as well as a customer were inside during the robbery though no one was injured. Police say both suspects were wearing masks.
It's not the first time the store has been hit. Jay Roberts was robbed in a similar smash and grab style back on March 8. Police suspect the same men robbed the store during that incident.
Investigators also believe the robberies are connected to another smash and grab incident on February 22 at the Bernie Robbins Jewelry Store in Radnor. Investigators also say they're working to determine if the men involved in Thursday's incident are responsible for 10 jewelry store heists across the tri-state region.