We're Dodging the Snowmageddon Bullet
It's still considered a significant storm, but not "crippling"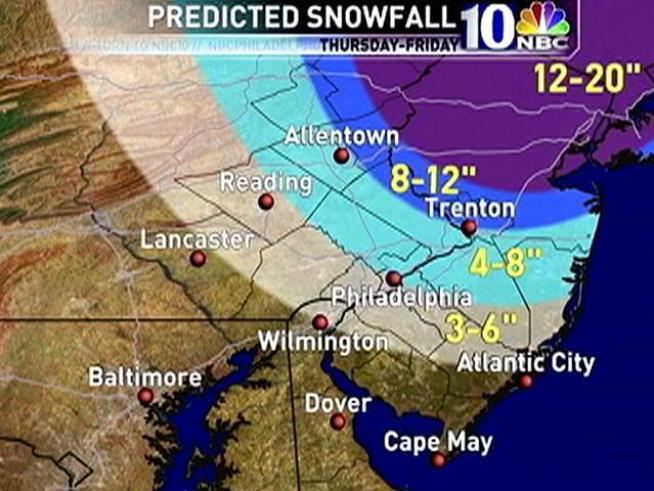 NBC10 Meteorologist Dave Warren
New snowfall predictions as of 1 p.m. Thursday, Feb. 25, 2010 after a major change in the forecast downgraded the storm for our area.
Hold everything.
The newest weather data shows we will dodge the worst of the snowfall in the Philadelphia area -- this will no longer be a "crippling" storm for us, but it is still considered a significant snowstorm.
North of us -- especially up in the New York area -- is where the heaviest snowfall will occur.
We will still have limited periods of heavy snow.
WHY WE ARE DOWNGRADING THIS STORM:
Here is the revised timeline as of noon on Thursday:
Noon - 5 p.m. -- Light Snow
5 p.m. - 10 p.m. -- Light Snow/Some Wind
10 p.m. - 7 a.m. Friday -- Heavier Snow/Wind
Noon - 8pm Friday --Light Snow
New snowfall predictions:
Less than 2 Inches = Extreme Southern Jersey and Southern Delaware
3 - 5 Inches = Wilmington, Del. and parts of South Jersey
4 - 8 Inches = Philadelphia, some Pa. suburbs and northern sections of South Jersey
8 - 12 Inches = Trenton/Allentown
Weather-Related Links: