Phillies Fall to Cubs 5-1
After a win on Saturday against the Cubs, the Phillies couldn't pull it off on Sunday.
Monday, Apr 30, 2012 | Updated 9:12 AM EDT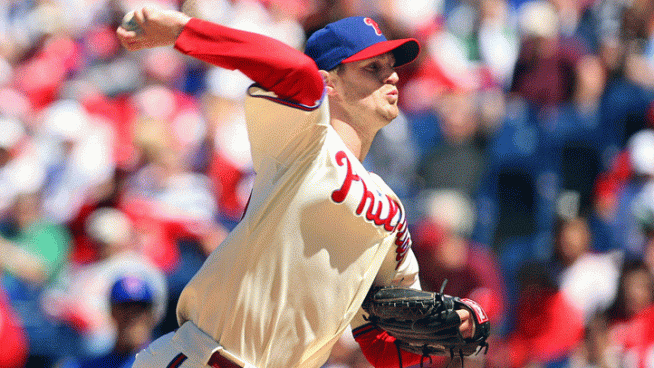 Getty Images
PHILADELPHIA, PA - APRIL 29: Starting pitcher Kyle Kendrick #38 of the Philadelphia Phillies throws a pitch during a game against the Chicago Cubs at Citizens Bank Park on April 29, 2012 in Philadelphia, Pennsylvania. (Photo by Hunter Martin/Getty Images)
Matt Garza pitched one-hit ball for seven shutout innings and struck out 10 Sunday as the Chicago Cubs beat the Philadelphia Phillies 5-1.

Garza (2-1) gave up a pop-fly single to Jimmy Rollins leading off the first and nothing more.

Garza retired 20 of the next 21 batters, with Juan Pierre's seventh-inning walk accounting for the only other baserunner.
After reliever Rafael Dolis pitched a perfect eighth, Cubs closer Carlos Marmol was shaky in the ninth.

Marmol walked a pair and Hunter Pence's infield single with two outs loaded the bases. Marmol then walked Ty Wigginton to force home a run before getting Shane Victorino on a game-ending groundout.