Here are the 10 things you need to know to start your day from your friends at NBC10.
---
TODAY'S TOP STORY
Woman Killed in Savage Stabbing and Beating Identified: Philadelphia police have identified a woman who was killed after being brutally beaten and stabbed outside a North Philadelphia high school Saturday morning. Debra Gulliver, 33, of the 2500 block of N. 25th Street, suffered more than a dozen stab wounds to her stomach, police said Monday. She was also beaten severely in the head. "She was just dressed in flip flops and a tank top and a pocket book and a pony tail going home and never made it," Gulliver's mother Nancy Celia told NBC10. "Whoever was there at that point in time, she put up a fight for darn sure." Gulliver was partially clothed when a passerby, who had just been robbed by two men, found her in a park attached to Dobbins Technical High School near 21st Street and Lehigh Avenue, police said. Police are unsure of the motive but say nothing was stolen from Gulliver during the attack. They also have not yet determined whether or not she was sexually assaulted. Police did not have a description of a suspect available Monday. Officials said they received 911 calls from witnesses who left the scene before officers arrived.
YOUR FIRST ALERT FORECAST
Tuesday and Wednesday are expected to see low humidty and sunny skies, with temperatures around 80 degrees. The humidity is expected to return for Thursday and through the weekend. Showers and thunderstorms are possible for Friday and Saturday. Get your full NBC10 First Alert forecast here.
NBC10 First Alert Weather: From Rain to Shine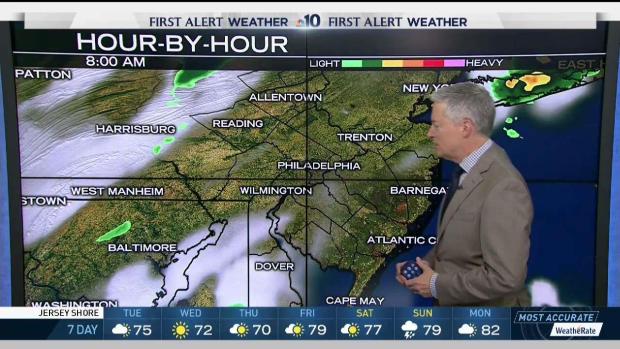 WHAT YOU MISSED YESTERDAY
Man Wakes Up to Gunman Shooting, Killing His Daughter: An investigation is underway after a man woke up to the sound of his daughter being shot to death inside their farmhouse in Winslow Township, New Jersey. Winslow Township Police responded to a report of gunshots inside a farmhouse on the 700 block of Bairdmore Avenue around 3:50 a.m. Sunday. In a 911 call obtained by NBC10, the father of Deanna Marie Scordo, 45, told the dispatcher two men wearing black hoods broke into the home, shot his daughter, and left her in a corner.
AROUND THE WORLD

Trump Travel Ban Partly Reinstated: The Supreme Court is allowing President Donald Trump to forge ahead with a limited version of his ban on travel from six mostly Muslim countries to the U.S. Trump hailed the decision as a "victory for national security," but it's likely to set off a new round of court disputes over anti-terror efforts and religious discrimination. The justices will hear full arguments in October in the case that has stirred heated emotions across the nation and pointed rebukes from lower courts saying the administration is targeting Muslims. Until then, the court said Monday, Trump's ban on visitors from Iran, Libya, Somalia, Sudan, Syria and Yemen can be enforced if those visitors lack a "credible claim of a bona fide relationship with a person or entity in the United States." The ruling sets up a potential clash between the government and opponents of the ban over the strength of visitors' ties to the United States. A senior official said plans already had been written to enforce the ban aggressively. But immigrant groups said relatively few people try to enter the United States without well-established ties. Those groups said they will be sending lawyers and monitors back to American airports, where the initial, immediate implementation of the ban in January caused chaos and confusion.

Police: Girls Own Actions Caused Her to Fall from Six Flags Ride: Authorities say a 14-year-old Delaware girl's actions caused her to fall from a New York amusement park ride and land in the arms of bystanders. Warren County sheriff's Lt. Steven Stockdale tells The Post-Star of Glens Falls that "human error" on the part of the teen caused her to slip under a metal restraining bar on the Sky Ride gondola while riding with her brother Saturday at Six Flags Great Escape. The girl dangled briefly while her brother held her. The ride was stopped, and she dropped about 25 feet into a crowd poised to catch her. The girl was taken to an Albany hospital for unspecified injuries. Police say the ride was functioning properly.
SPORTS SPOT
Phils Lose to Arizona: The Phillies lost 1 to 6 against the Arizona Diamondbacks. Get your full sports news at CSNPhilly.
PHOTO OF THE DAY
See more Top News Photos here.
THROUGH IGER'S EYES
@taniagail captured this cool image of her dog at the John Heinz National Wildlife Refuge.

Have an awesome Instagram photo you'd like to share? Tag it with #NBC10Buzz.
TODAY'S VIRAL VIDEO
How about a glass swimming pool, 1,000 feet in the air: Click here to watch.

A LITTLE SWEETENER
Biden Returns to Lifeguard Chair in Delaware: Former Vice President Joe Biden already has a train station in Wilmington, Delaware, named for him. Now, local officials are making a splash by naming a swimming pool for him. Gov. John Carney joined Biden and community members on Monday, when the aquatic center at the Brown-Burton Winchester Park was renamed the Joseph R. Biden Sr. Aquatic Center in his honor. Biden, who lived in nearby Mayfield, worked at the inner-city pool as a teen. It was known then as the Prices Run swimming pool, and Biden was the only white lifeguard working there, according to his 2008 autobiography. Read more.

---
That's what you need to know. We've got more stories worthy of your time in the Breakfast Buzz section. Click here to check them out.
Published at 7:00 AM EDT on Jun 27, 2017 | Updated at 6:35 AM EDT on Jun 27, 2017