Here are the 10 things you need to know to start your day from your friends at NBC10.
---
TODAY'S TOP STORY
Former AC Mayor, NJ Senator Dies: New Jersey Democratic Senator and former Atlantic City mayor Jim Whelan has died at the age of 68. Whelan's family made the announcement on his Facebook page Tuesday night. Born in Philadelphia on November 8, 1948, Whelan attended Temple University where he received a Bachelor's and Master's degree in education. Whelan first served in the Atlantic City School District in the late 1970s before entering politics. He became a member of the Atlantic City Council in the early 1980s before becoming the Mayor of Atlantic City, serving from 1990 to 2001. Family members haven't revealed how Whelan died. On July 11, he underwent surgery at the Hospital of the University of Pennsylvania to remove a cancerous growth from his kidney. It was announced on his Facebook page that the operation was successful. However, on July 31, Whelan announced he was readmitted to the hospital due to complications from blood thinners he was prescribed.
YOUR FIRST ALERT FORECAST
The overnight showers and thunderstorms have moved out. Light showers are possible Wednesday and the humidity is expected to drop. The sun is expected to return for Thursday and Friday. The sun is expected to stick around through the weekend, too. Get your full NBC10 First Alert forecast here.
NBC10 First Alert Weather: 80 and Less Humid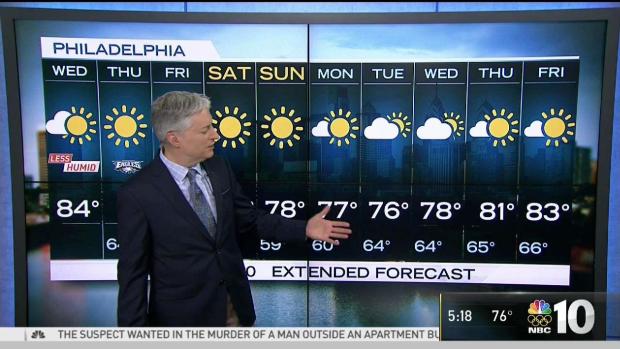 WHAT YOU MISSED YESTERDAY
Cherry Hill Man Among Missing Sailors: A Cherry Hill, New Jersey, man is among the sailors who went missing when a U.S. Navy destroyer collided with an oil tanker off Malaysia this weekend, his family tells NBC10. Kenneth Smith, 22, is one of 10 sailors who remain unaccounted for after the guided-missile destroyer USS John S. McCain was hit by the tanker Alnic MC at 5:24 a.m. Singapore time Monday (5:24 p.m. EDT Sunday) while enroute to Singapore, the man's mother, April Brandon, said Tuesday. The Navy has yet to officially identify any of the missing sailors.
AROUND THE WORLD

Trump Blames Media for Condemnation on Comments on Virginia: President Donald Trump blamed the media Tuesday for the widespread condemnation of his response to a Charlottesville, Virginia, protest organized by white supremacists that led to the killing of a counter-protester. Trump opened his political rally in Phoenix with a call for unity, saying, "What happened in Charlottesville strikes at the core of America and tonight, this entire arena stands united in forceful condemnation of the thugs that perpetrated hatred and violence." But he quickly trained his ire on the media, shouting that he "openly called for healing unity and love" in the immediate aftermath of Charlottesville and claiming the media had misrepresented him. He read from his three responses to the violence — getting more animated with each one.
Burglar Steals Rent, Birthday Money While Family Sleeps: A burglar pushed through an AC unit to break into a couple's Northeast Philadelphia home and then stole rent money, birthday money for their young son, and a camera while the family slept upstairs. Paul, who did not want to reveal his full name, told NBC10 he, his wife and their children were sleeping in their home in the Parkwood section of Northeast Philadelphia early Monday morning when the burglar broke in. When Paul woke up around 7 a.m. Monday, he noticed his kitchen window was knocked off and $1,500 in rent money and birthday money for his son who just turned 6 over the weekend, was missing. His wife's Canon camera was also gone. "We're freaked out," Paul said. "It's traumatizing. Thank God they didn't come upstairs."
SPORTS SPOT
Phils Lose to Miami: The Phillies were swept in a double heater against the Miami Marlins. Get your full sports news at CSNPhilly.
PHOTO OF THE DAY
See more Top News Photos here.
THROUGH IGER'S EYES
@smokinglens captured this cool image at Eastern State Penitentiary.
Have an awesome Instagram photo you'd like to share? Tag it with #NBC10Buzz.
TODAY'S VIRAL VIDEO
Check out these fun facts about meteorites: Click here to watch.

A LITTLE SWEETENER
Local Cheerleading Team Raising Money for Camp: A North Philadelphia cheerleading squad is raising money to attend an overnight summer camp that will help them get better. If you'd like to donate money to the Science Leadership Academy at Beeber cheerleading team, read more.

---
That's what you need to know. We've got more stories worthy of your time in the Breakfast Buzz section. Click here to check them out.
Published at 7:00 AM EDT on Aug 23, 2017 | Updated at 7:06 AM EDT on Aug 23, 2017