Is That a Shrimp in Your Pants or Are You Robbing a Grocery Store?
Man puts shrimp in his pants; attacks grocery store guard, police say
Monday, Mar 28, 2011 | Updated 5:00 PM EDT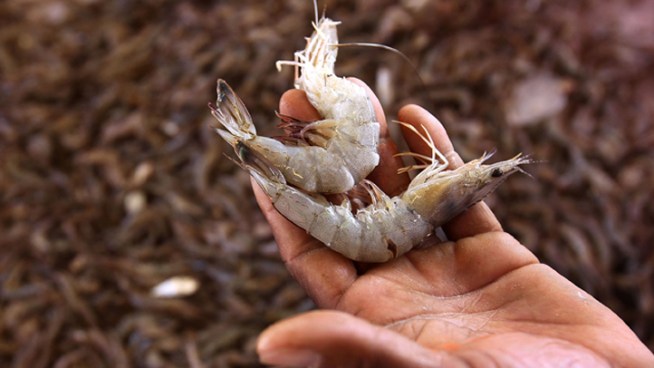 Getty Images
PORT SULFUR, LA - MAY 18: A worker shows off shrimp fresh from the Gulf of Mexico at a seafood retailer on May 18, 2010 in Port Sulfur, Louisiana. Due to the BP oil spill, authorities started shrimping season two weeks early in the area, fearing that more prime fishing areas would be closed due to oil contamination. Eric Hansen, who buys shrimp fresh from local fishermen, said the result of the early harvest has been smaller than normal shrimp, which sell for less. (Photo by John Moore/Getty Images)
A central Pennsylvania man faces robbery and assault charges after he allegedly stuffed a bag of frozen shrimp down his pants and attacked a grocery store security guard.
Northern York County Regional Police say 37-year-old Brian McDaniel was spotted hiding the shrimp in his pants and struck a security guard who tried to stop him inside a grocery store Thursday in Dover Township. The guard sustained minor injuries.
McDaniel was caught in the store's parking lot by the security guard and a bystander. He is being held on $10,000 bail.
It was not immediately clear if McDaniel had an attorney.