Video Proves Lightning Can Strike Twice
Yes, lightning can strike more than once. And we can prove it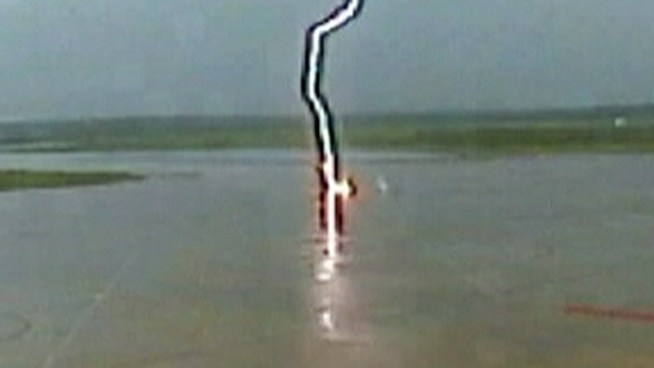 NBC10 Philadelphia -Ted Greenberg
A security camera caught lightning striking the same spot four times at the Coast Guard Air Station in Atlantic City. NBC10's Ted Greenberg spoke to U.S. Coast Guard Lt. Jay Kircher who says he saw it with his own eyes.
You've heard the old adage "lighting can't strike twice." Well, NBC10 has proof that's not quite true.
A security camera at the Coast Guard Air Station Atlantic City captured not one, not two, but four lightning bolts.
The strikes happened during a thunderstorm on August 15 and left a small crater behind.
"Everybody's just really amazed at the awesome display of Mother Nature. It's really something to behold" said PA1 Nick Ameen of the U.S. Coast Guard.
Coast guard crews are not allowed to fly their helicopters in thunderstorms. Now, they know why.
Lt. Jay Kircher told NBC10 "I feel safe in a helicopter flying around, but there's a good reason why we have these polices."
No one was hurt or outside when the lightning struck.
The tarmac has been repaired.