Winter Classic Ticket Lawsuit Settled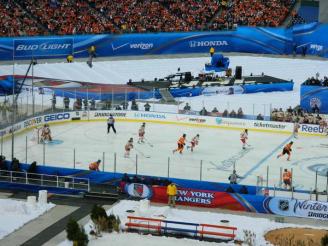 John George
The NHL's 2012 Winter Classic featured the Flyers playing the Rangers at Citizens Bank Park.
Comcast Spectacor has agreed to pay $625,500 in vouchers to Philadelphia Flyers season ticket holders.
The agreement settles a class-action lawsuit filed against the company by the ticket holders who said the team improperly excluded tickets from the 2012 Winter Classic from season ticket packages and required fans to pay more for the outdoor hockey game.
Under the terms of the settlement, the class members will have the option of receiving a $45 concession voucher or an alternative voucher, valued at $75, that will enable them to get an on-ice holiday photo or a personalized message on the scoreboard during a Flyers game at the Wells Fargo Center and on the Xfinity Live board after the game. Comcast is the parent company of NBC10. Read more about this story on PBJ.com
More NBC10.com stories: